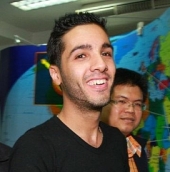 An alleged hacker, suspected by the FBI of stealing millions of dollars from online bank accounts, has been arrested by Thai police and paraded in front of the world's media.
24-year-old Hamza Bendelladj, an Algerian national, was detained this weekend at Bangkok's Suvarnnabhumi airport, as he was in transit from Malaysia to Egypt.
Bendelladj, was brought out handcuffed and beaming broadly in front of TV cameras, seemingly untroubled by the FBI's claims that he hacked into customer accounts at 217 banks and financial companies around the world.
The Bangkok Post reports that a smiling Bendelladj denied claims made by the Thai authorities that he was on the FBI's top-10 most wanted list:
"I'm not in the top 10, maybe just 20th or 50th," the Algerian suspect said with a laugh. "I am not a terrorist."
Here's an NTDTV video report from the press conference:
Two laptops, a tablet computer, a satellite phone and a number of external hard drives were confiscated by police from Bendelladj.
Immigration police chief Pharnu Kerdlarpphon was reported as saying that Bendelladj had claimed he spent his riches living a life of luxury:
"With just one transaction he could earn 10 to 20 million dollars... He's been travelling the world flying first class and living a life of luxury."
Officials in Thailand have said that Bendelladj will be extradited to the United States as soon as possible.
One wonders if he will find that quite so amusing.