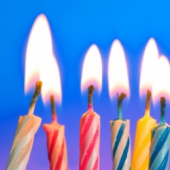 Facebook users are spreading a warning to their friends and family online about a supposedly malicious application called "My birthday calendar".
The warning about the birthday app claims that "just a click makes it starts (sic) sending requests to all your friends/contacts".
However, it appears that the warnings are causing much more traffic and wasting more time than the supposedly aggressive Facebook application.
Here's what a typical warning looks like: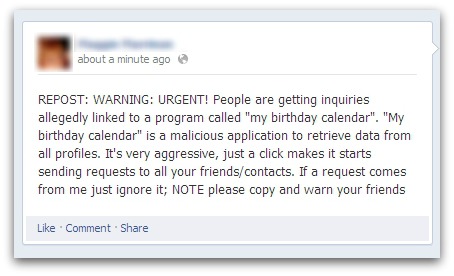 WARNING: URGENT! People are getting inquiries allegedly linked to a program called "my birthday calendar". "My birthday calendar" is a malicious application to retrieve data from all profiles. It's very aggressive, just a click makes it starts sending requests to all your friends/contacts. If a request comes from me just ignore it; NOTE please copy and warn your friends
We haven't seen any evidence that a Facebook application called "My Birthday Calendar" is behaving any differently from the many thousands of other Facebook apps.
So, I think it would be appropriate to classify this chain letter as a hoax warning.
Of course, you should always be careful about which Facebook apps you allow to connect with your account, as they can collect varying levels of information about you. If you aren't comfortable with that, don't install the app.
Furthermore, even if you are careful about what Facebook apps you install – are your friends being just as cautious?
It may surprise you to hear that when other Facebook users choose to install apps they can then share the information they can see about you with those apps.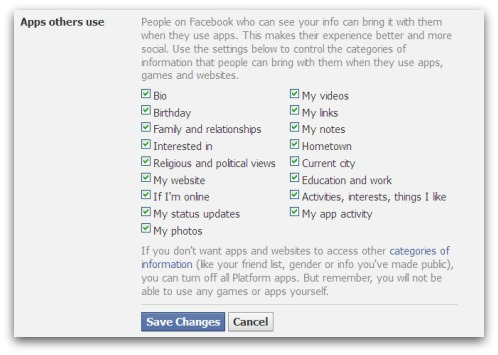 Visit your Facebook privacy settings and untick those options if you wish to limit what information about you your Facebook friends can share with third-party applications.
Don't forget you should join the Naked Security from Sophos Facebook page, where we not only debunk hoaxes and chain letters, but we also keep you up-to-date on the latest security and privacy issues threatening Facebook users.
Birthday candles image from Shutterstock.