Sigh..
Here we go again.
Facebook and Twitter users of a certain age have got themselves into a dither worrying that Neil Tennant, singer with the Pet Shop Boys, had died in a car crash.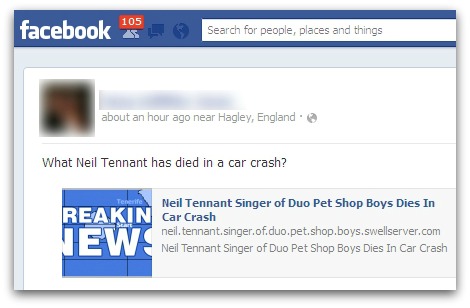 What's that? You didn't see the news on the BBC or CNN?
Maybe that's because Neil Tennant, like other celebrities before him, is the victim of an internet hoax.
Facebook and Twitter users have been duped by a false news story claiming to be from "Global Associated News":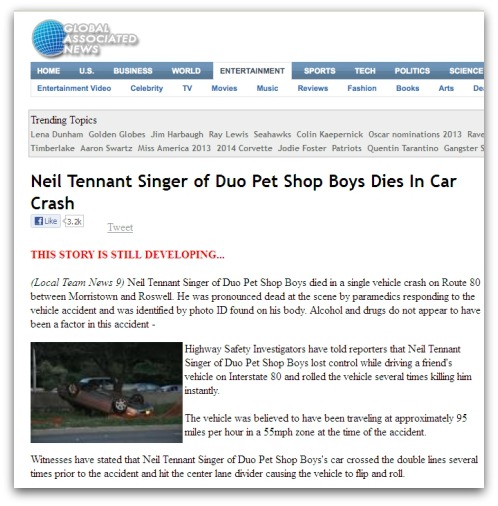 Part of the bogus news story reads:
Neil Tennant Singer of Duo Pet Shop Boys died in a single vehicle crash on Route 80 between Morristown and Roswell. He was pronounced dead at the scene by paramedics responding to the vehicle accident and was identified by photo ID found on his body. Alcohol and drugs do not appear to have been a factor in this accident.

Highway Safety Investigators have told reporters that Neil Tennant Singer of Duo Pet Shop Boys lost control while driving a friend's vehicle on Interstate 80 and rolled the vehicle several times killing him instantly.
Does the story look familiar? It should do to regular readers of Naked Security (and if you're not a regular reader – why not sign-up for our free email newsletter?)
Because in the past we have debunked the very similar deaths of Adam Ant, Jim Carrey, Christian Slater, Vanilla Ice, Tom Cruise and others..
The truth is that somewhat tasteless websites exist which allow anyone to automagically generate a fake news story about a death in a car crash. Simply changing the link changes the name of the victim.
Before you know it, internet users are unwittingly forwarding the message without checking their facts, and the tasteless website is earning itself some cash from all of the new traffic seeing its adverts.
If something like this had really happened, you would be able to read about it on legitimate news websites.
Remember folks: you shouldn't believe everything you read on the internet.