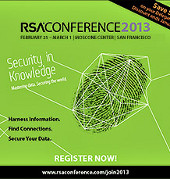 The temperature has dipped throughout the Northern Hemisphere and days are beginning to lengthen. Jack Frost is still nipping at your nose, but things are looking up.
It must be time to start preparing for RSA Conference 2013!
Actually, if truth be told, preparing for RSA starts about mid-year when they require any proposals to speak be submitted.
This ensures only the most current topics are accepted for the main conference eight months later.
OK, enough of that. The reason I am writing this is that we need *your* help.
All year long we strive to provide you the most timely, well researched and practical security advice and news.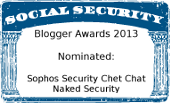 What you can do for us is help us get nominated for the 2013 SBN Social Security Blogger Awards.
The initial voting for who should be on the ballot is open to the public and Naked Security is nominated in two categories (sort of).
First we are in the running for the Best Corporate Security Blog, which we were privileged to have won in 2012.
Secondly, for the first time, the Sophos Security Chet Chat is up for nomination as the Best Security Podcast.
If you like Naked Security or enjoy listening to the Chet Chat, why not support us by casting a vote in our direction?
After the nominees are chosen there will be a vote by security professionals to select the winners. Wish us luck!
Social Security card image courtesy of Shutterstock.