Before anyone gets the wrong idea – let me make this really clear.
Despite what you may have read on the internet, Mickey Rourke has *not* died in a snowboarding accident.

If the award-winning actor had been killed, it would have been a crazy coincidence – because it's just days since there were claims on Facebook and Twitter that Sylvester Stallone had died in a snowboarding accident.
And let's not forget Jim Carrey's fatal snowboarding accident and the one that killed Christian Slater a year ago.
All of the celebrities mentioned above are, at the time of writing, alive, kicking and – I'm guessing on this next bit – probably not snowboarding.
There are some pretty tasteless practical joke websites out there which allow you to generate fake news stories about the deaths of anyone you choose.
And that's exactly what has happened in Mickey Rourke's case.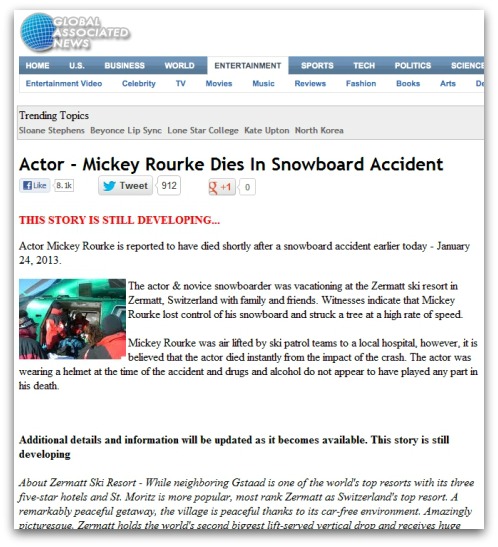 Actor - Mickey Rourke Dies In Snowboard Accident

THIS STORY IS STILL DEVELOPING...
Actor Mickey Rourke is reported to have died shortly after a snowboard accident earlier today - January 24, 2013.

The actor & novice snowboarder was vacationing at the Zermatt ski resort in Zermatt, Switzerland with family and friends. Witnesses indicate that Mickey Rourke lost control of his snowboard and struck a tree at a high rate of speed.

Mickey Rourke was air lifted by ski patrol teams to a local hospital, however, it is believed that the actor died instantly from the impact of the crash. The actor was wearing a helmet at the time of the accident and drugs and alcohol do not appear to have played any part in his death.

Additional details and information will be updated as it becomes available. This story is still developing

About Zermatt Ski Resort - While neighboring Gstaad is one of the world's top resorts with its three five-star hotels and St. Moritz is more popular, most rank Zermatt as Switzerland's top resort. A remarkably peaceful getaway, the village is peaceful thanks to its car-free environment. Amazingly picturesque, Zermatt holds the world's second biggest lift-served vertical drop and receives huge snowfalls thanks to its altitude.
As an experiment, I went to the same website – using my name in the URL rather than Mickey Rourke's. Sure enough, it tells me that I've died in a snowboarding accident: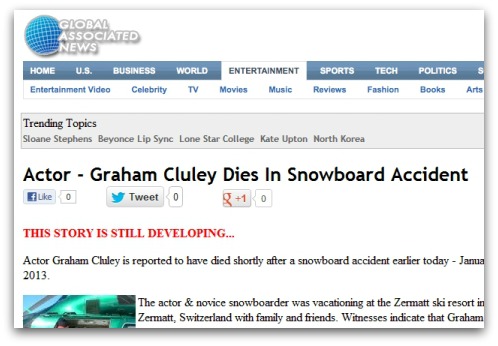 Trust me – I've never been on a snowboard.
If you share the link with unsuspecting friends via social media, the fake news report can easily be spread in the blink of an eye.
Before you know it, internet users are unwittingly forwarding the message without checking their facts, and the tasteless website is earning itself some cash from the increased impressions its adverts are receiving.
If someone famous like Mickey Rourke had really come to a sticky end, you would be able to read about it on a legitimate news website like BBC News Online or CNN.
Just imagine the harm that could occur if there was malware lying in wait at the end of that salacious news story link?
So please, check your facts before sharing breaking news with friends – and remember not to believe everything you read on the internet.