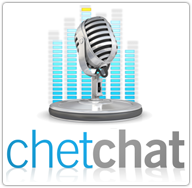 Here it is.
The first Naked Security podcast of 2013.
Sophos Security Chet Chat Episode 101.
Chester's guest in the 101st Chet Chat is Paul Ducklin.
Spend an enjoyable quarter-hour as our duo take on a range of security issues with their usual mixture of insight, expertise, scepticism, advice and occasional outright puzzlement:
• Making private things public – even pros sometimes get it wrong.
• The Java saga – what to keep, and what to avoid.
• PWN2OWN and Pwnium 3 – your chance at pi-and-a-half million dollars.
• Precision vs. accuracy – how incorrect detail affects security.
(29 January 2013, duration 15:10 minutes, size 10.9 MBytes)
You can also download this podcast directly in MP3 format: Sophos Security Chet Chat 101.
And why not take a look at the back-catalogue of Sophos Podcasts in our archive? We have loads of interesting stuff for your listening pleasure.