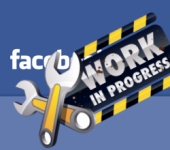 Messages have been spreading on Facebook claiming that the social network will be closed between February 29th and February 31st, 2013.
And, of course, it's kinda true. You won't be able to log into Facebook on February 29th, February 30th or February 31st this year. Nor will you have much luck, although the messages don't mention this, on June 31st.
Umm.. that's because those days don't exist.
Clearly whoever started spreading this message intended it as a practical joke – but it seems some users have taken it at face value and shared it with their friends, unaware of the silliness.
The messages appear to be particularly prevalent in French – maybe it was a gallic wag who started off the chain letter?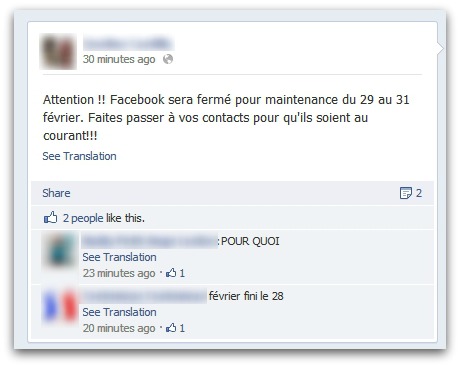 Attention !! Facebook sera fermé pour maintenance du 29 au 31 février. Faites passer à vos contacts pour qu'ils soient au courant!!!
But versions of the message have also been reported in English:
WARNING!! Facebook will be closed for maintenance from February 29th to 31st!! Facebook wants YOU to Share this message with at least 15 of your friends for the best chance of alerting everyone. Many people will try to log in from February 29 to 31, just to find the site closed down for those days with no warning
You have to wait until 2016 before the next February 29th comes around, and even then there's no plans for a February 30th or February 31st.
Readers with long memories will remember that this is not the first time that a hoax has spread claiming that Facebook will shut down. A few years ago, a bogus news story claimed that Facebook was going to permanently close on March 15th.
The reason? CEO Mark Zuckerberg claims that "managing [Facebook] has ruined my life. I need to put an end to all the madness."
Of course, as we explained in the following video, there wasn't a shred of truth to the story.
(Enjoy this video? You can check out more on the SophosLabs YouTube channel and subscribe if you like)
Hoaxes and jokes like these are nothing like as bad a problem as malware worming its way between users and stealing information, but they can still become a nuisance, clogging up communications, increasing the overall level of spam and perhaps leading people to make decisions for the wrong reasons.
If you're in the habit of regularly passing on chainletters and hoaxes, chances are that you could also be the kind of person to be duped by scams and malicious links, and could inadvertently share those with your online friends too.
There's an important lesson here – don't believe everything you read on the internet, and think twice before passing a story onto your friends.
Keep your wits about you and stay informed about the latest scams, hoaxes and malware attacks spreading fast across Facebook. Join the Naked Security from Sophos Facebook page, where more than 200,000 people regularly share information on threats and discuss the latest security news.