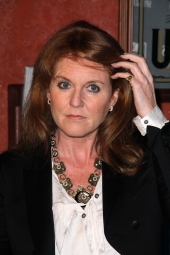 A court in London has heard that Sarah Ferguson, the former wife of Prince Andrew, is one of more than 100 people who have received significant payouts in the wake of the News of the World phone hacking scandal.
Sarah Ferguson, the former Duchess of York, demanded a public apology from the newspaper's publisher News Corporation, after reportedly having had her phone's voicemail intercepted since 2000 to feed the tabloid's appetite for juicy gossip.
Others who have received damages include Hugh Grant, former Doctor Who Christopher Eccleston and spoon-bender Uri Geller according to The Guardian.
The story of the British media's penchant for phone hacking dominated Britain's news headlines during 2011 and 2012, and has resulted in both criminal investigations and a government inquiry.
With such a high profile given to the issue, there's really no reason for anyone to have poorly-protected voicemail anymore. But in case you are still in doubt, here's our guide on how phone hacking worked, and how to make sure you're not a victim.
The story isn't over yet, of course, with ongoing police investigations into not just the interception of mobile phone voicemail systems but also the hacking of public figures' computers and email accounts using spyware Trojan horses.
Sarah Ferguson image from Shutterstock.