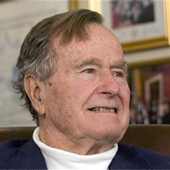 A hacker using the alias "Guccifer" has claimed responsibility for hacking the Bushes, aka the political family that gave the US its 41st president (George H.W. Bush) and its 43rd president (George W. Bush).
In email exchanges with The Smoking Gun, the hacker indicated last week that he (the male gender having been indicated by The Smoking Gun's coverage) had breached at least six email accounts, including:
The AOL account of Dorothy Bush Koch, daughter of George H.W. Bush and sister of George W. Bush;
Willard Heminway, 79, an old friend of the 41st president;
CBS sportscaster Jim Nantz, a longtime Bush family friend;
former first lady Barbara Bush's brother; and
George H.W. Bush's sister-in-law.
The Smoking Gun reports that the hacker claims to have stolen and published private material, including "interesting mails" about George H.W. Bush's recent hospitalization, "Bush 43," and other Bush family members.
The doxed material allegedly contains a confidential October 2012 list of home addresses, cell phone numbers, and emails for dozens of Bush family members, including both former presidents, their siblings, and their children.
Intimate details were stolen, including a four-digit code needed to enter a Bush home security gate, as well as correspondence about the need to write a eulogy for the elder Bush, who was hospitalized and assumed to be on his death bed at the time.

Photos of George W.'s self-portraits were also published.
If you can't live without having experienced the 43rd president's knobby knees sticking out of a bathtub or ex-presidential lathering in a steamy shower, the internet can now ease your need. No worries, the paintings are safe for work.
Guccifer also posted private photos of the Bush family, which The Smoking Gun republished.
The hacker told The Smoking Gun that "The feds" began investigating him a "long time ago," and that he has hacked "hundreds of accounts."
He also downplayed the FBI/Secret Service investigation that's sure to come, saying:
"I have an old game with the f**king bastards inside, this is just another chapter in the game."
What hubris, to pick on innocent people in the execution of a "game".
Regardless of whether you approve of the political agenda of the Bush dynasty, you've got to feel sorry for those whose personal correspondence, photos and artwork gets pulled into the glaring light of the public eye just to satisfy some guy's ego.
The takeaway: take care of what you send electronically. We're all fair game to be picked on by bullies like Guccifer.
If you don't want to see your words and images held up for public scrutiny and ridicule, think twice before you hit send.
By the way, the Bushes are far from the first Republican politicans to have suffered at the hands of hackers. Perhaps most memorably, Sarah Palin had her private Yahoo email account broken into when she was campaigning to be vice-president. On that occasion, the hacker ended up with a prison sentence.