A report by the Islamic Republic News Agency this weekend raised eyebrows, as it appeared to claim that Iranˈs Revolutionary Guard Corps had managed to hack and down a foreign spy drone.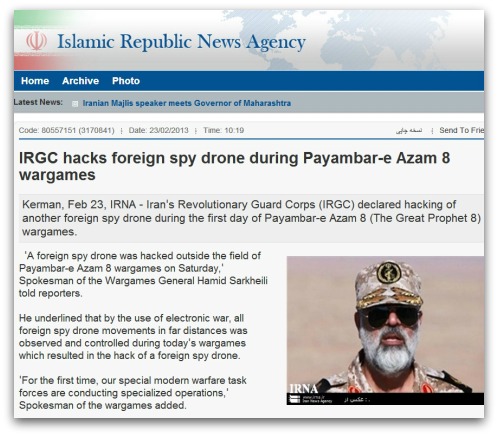 "A foreign spy drone was hacked outside the field of Payambar-e Azam 8 wargames on Saturday," reporters were told.
The official FARS news agency told a similar story, adding that the revolutionary guard were in possession of pictures taken by the drone and hoped to release them to the world's media.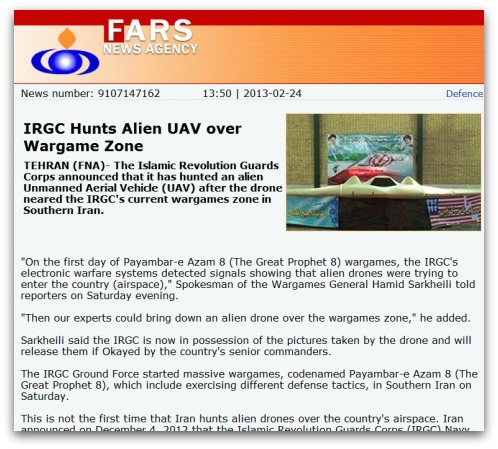 IRGC Hunts Alien UAV over Wargame Zone
TEHRAN (FNA)- The Islamic Revolution Guards Corps announced that it has hunted an alien Unmanned Aerial Vehicle (UAV) after the drone neared the IRGC's current wargames zone in Southern Iran.

"On the first day of Payambar-e Azam 8 (The Great Prophet 8) wargames, the IRGC's electronic warfare systems detected signals showing that alien drones were trying to enter the country (airspace)," Spokesman of the Wargames General Hamid Sarkheili told reporters on Saturday evening.

"Then our experts could bring down an alien drone over the wargames zone," he added.

Sarkheili said the IRGC is now in possession of the pictures taken by the drone and will release them if Okayed by the country's senior commanders.
However, you shouldn't be too quick to take these headlines at face value.
Because, as a corrected Reuters report makes clear, the downed enemy spy drone was hypothetical – a real drone was not hacked and brought down by Iranian forces.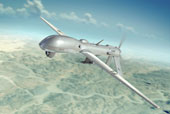 In short, it was all part of Iran's war games, and the media were mislead by the testosterone-fueled bravado of those taking part.
That's not to say, of course, that real drones cannot be hijacked by hackers.
Last year, researchers at the University of Texas at Austin hacked and hijacked a drone in front of a group of dismayed Department of Homeland Security officials who had dared them $1,000 to do it.
UAV image, courtesy of Shutterstock.