You might also like our related article:
Three tips to help you avoid Facebook hoaxes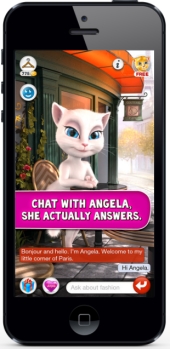 A bogus warning is spreading across Facebook, telling parents of young children to watch out for a rogue iPhone/iPad app that (the warning claims) steals children's names, details of where they go to school, and even takes secret pictures of their faces.
The chain letter warning about the "Talking Angela" iOS app is being unwittingly spread by Facebook users, presumably with the thinking of "better safe than sorry" rather than "maybe I should just check the facts before forwarding this scare onto my friends".
The truth is that "Talking Angela" appears to be entirely benign, and there are no obvious privacy concerns that differentiate it from thousands of other iPhone apps.
Indeed, the "Talking Angela" app is no different from other similar popular children's apps from reputable iOS developer Out Fit 7 Ltd, including "Talking Tom Cat", "Talking Ben the Dog" and "Talking Gina the Giraffe".
Here's what a typical warning looks like when it is spread on Facebook: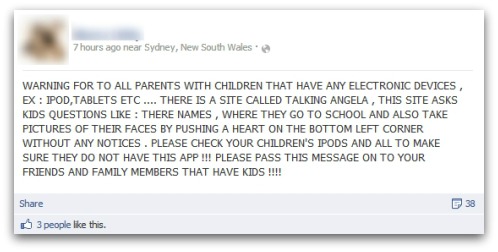 WARNING FOR TO ALL PARENTS WITH CHILDREN THAT HAVE ANY ELECTRONIC DEVICES , EX : IPOD,TABLETS ETC .... THERE IS A SITE CALLED TALKING ANGELA , THIS SITE ASKS KIDS QUESTIONS LIKE : THERE NAMES , WHERE THEY GO TO SCHOOL AND ALSO TAKE PICTURES OF THEIR FACES BY PUSHING A HEART ON THE BOTTOM LEFT CORNER WITHOUT ANY NOTICES . PLEASE CHECK YOUR CHILDREN'S IPODS AND ALL TO MAKE SURE THEY DO NOT HAVE THIS APP !!! PLEASE PASS THIS MESSAGE ON TO YOUR FRIENDS AND FAMILY MEMBERS THAT HAVE KIDS !!!!
The inference from the all-caps warning is clearly that "Talking Angela" is somehow a risk to children.
However, whoever started this scare has got their facts in a muddle.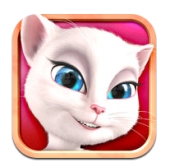 For one thing, "Talking Angela" is an iOS app – not a website (although there is an optional Facebook component).
Also, the app's purpose is to wait until the child says something and then mimic what they say back to them (albeit in a Parisian feline fashion) rather than to pilfer details of where they go to school.
None of this, of course, is to say that you shouldn't be careful about what smartphone apps you install, and which Facebook applications you grant access to your social networking profile.
Furthermore, it's always a good idea to keep a close eye on what children are doing on the internet – in case they get themselves into a spot of bother.
But the warning spreading across Facebook appears to be nothing more than a scare – setting the cat amongst the pigeons unnecessarily.
UPDATE: 14 February 2014 – Nearly a year since we wrote about the previous "Talking Angela" hoax, another chain letter is doing the rounds on Facebook: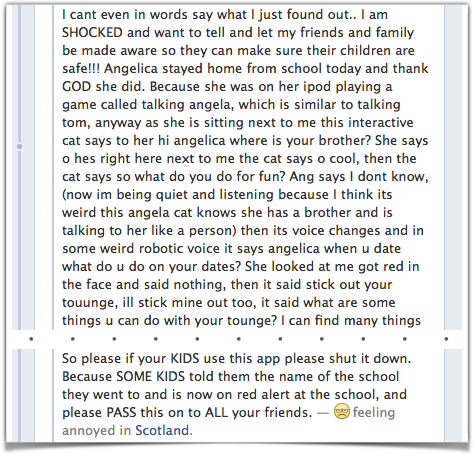 I cant even in words say what I just found out.. I am SHOCKED and want to tell and let my friends and family be made aware so they can make sure their children are safe!!! Angelica stayed home from school today and thank GOD she did. Because she was on her ipod playing a game called talking angela, which is similar to talking tom, anyway as she is sitting next to me this interactive cat says to her hi angelica where is your brother?...

...So please if your KIDS use this app please shut it down. Because SOME KIDS told them the name of the school they went to and is now on red alert at the school, and please PASS this on to ALL your friends.
You might also like our related article:
Three tips to help you avoid Facebook hoaxes
For further information