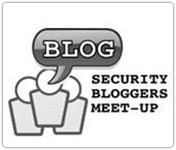 Cool news!
Fellow Naked Security writer and industry stalwart Graham Cluley just emailed from San Francisco to tell us that we won the Best Corporate Security Blog in the 2013 Security Bloggers' Awards.
The Security Bloggers' Awards are handed out each year alongside the RSA Conference, halfway through the conference week.
They're a bit different from most security awards because they aren't voted for by an industry panel, but by the security blogging community itself.
Readers get to propose their favourite sources of security information in a range of categories, and then our fellow evangelists in the security community get to decide.
This is the third year in a row that Naked Security has come away with a gong.
We were awarded Most Educational Security Blog in 2011, and Best Corporate Security Blog in 2012.

And it's that Best Corporate Security Blog prize we've scooped again in 2013.
Way-hey! As you can imagine, we're all pretty proud at what we've achieved since Naked Security first appeared back in October 2010.
Before then, we wrote independently in separate blogs.
But you, our readers, urged us to combine them to make it easier to keep on top of the news, opinion, advice and research that we write up.
Naked Security was the outcome or your suggestion.
Of course, we're indebted to you for more than just our existence. You're a huge part of our success, too.
As we've pointed out before, we receive an astonishing range of suggestions, corrections, updates, alerts and useful advice via the Naked Security email address tips@sophos.com.
We also benefit from the ever-growing number of readers who participate by posting comments on the articles themselves.
Why not join in if you haven't already?
→ Just to clarify: you don't have to register with Sophos, WordPress or anyone else to be able to leave comments on this site. If you already have a WordPress Gravatar, you can use it when you add a comment, but you don't have to. You can remain anonymous if you like – just put Anonymous in the "Name" field and leave "Email" blank.
We really value your comments and tips – so thanks, and keep them coming!