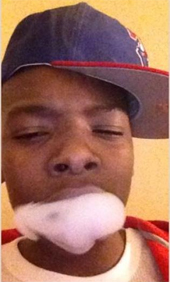 Do you recognise this man?
If so, the New York Police Department would like to hear from you.
Photographs of this young man (who may appear to be having an incident with ectoplasm, but is seemingly smoking marijuana) were uploaded to the Facebook account of one Viviana Estrada.
According to media reports, 27-year-old Miss Estrada had her iPhone 4S stolen in the early hours of March 2nd, after she and her uncle were approached by a man near East Tremont Avenue and the Grand Concourse.
It's bad enough having your smartphone stolen – but what happened next would really rub your nose in it. It appears that the thief then taunted his victim by posting images taken with the stolen iPhone to the victim's Facebook account.
Of course, maybe the thief didn't realise he was posting the images to his victim's Facebook account – maybe he thought that he was posting them to his own page on the social network. But because most people have their smartphone Facebook app permanently logged into the site, it's an easy mistake for a drugged-up phone thief to make.
We have often spoken on Naked Security about the dangers of posting inappropriate information on Facebook, and how it could lead to your privacy being compromised, or you falling victim to identity thieves.
This guy clearly isn't the smartest cookie, and if the photograph is shared far and wide it could lead to him being invited to answer a few questions by the New York Police.
For once, maybe something good will come out of a smartphone user not having properly locked her device with a hard-to-crack password.
Anyone who recognises the man in the photo is invited to contact NYPD Crimestoppers.
If you're interested in other Facebook goofs made by criminals, check out the burglar who uploaded his own picture to the victim's Facebook account and the two men who robbed an internet cafe, but forgot to log out of Facebook first.
If you use Facebook and want to get an early warning about the latest attacks, security issues and privacy threats you should join the Naked Security from Sophos Facebook page where we have a thriving community of over 200,000 people.
And make sure to check out our tips for better mobile phone security.