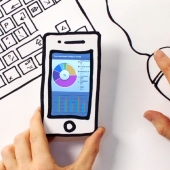 In January, we wrote about the crazy number of devices Apple co-founder Steve Wozniak takes with him on his travels around the world.
Then the Naked Security team counted up how many devices we each carried around every day… well, it was embarrassingly high.
So we decided to ask you, our wonderful readers, where you fit in to all of this. Are you device hogs like we are? More than 2,200 of you responded with your answers.
The eye-opening results are revealed in a new infographic, shown below.
Highlights
The average user carries around 2.9 devices.
The highest number of devices carried by one person: 12!
Android beats iPhone by a teeny tiny whisker of popularity: 40.9% compared with 40.5%
Check out the trendy infographic for more facts:

Tips for keeping those devices safe
Love your phone or tablet? Lock them by enabling strong passcodes or passwords. One of the biggest barriers between a thief and a device's data is its password. Learn how to create strong passwords that can be complex without being complicated.
(Enjoy this video? You can check out more on the SophosLabs YouTube channel and subscribe if you like.)
Keep all software updated, including your security software. Install and regularly update security software. Having out-of-date apps or an old version of the operating system could pose a security threat.

Installing security applications can provide additional protection by encrypting sensitive data, help you retrieve lost or stolen devices and stop malware for little to no cost. Check out these free security tools.

Only carry the devices you need. This seems like a simple concept, but with the myriad of devices offering specific features and functionality, it's sometimes difficult to just limit ourselves to one or two. But the less you carry with you, the less you're likely to mislay or have a problem with.
And if you look after IT security at work and are concerned about your colleagues' devices, look into products that can protect all of your users' devices, regardless of platform, number or location.
Just when you thought you had enough devices…
We sought to add one more device to a lucky survey winner's collection – a sweet iPad Mini in homage to Steve Wozniak.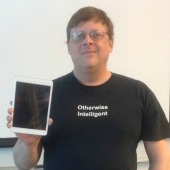 Big congratulations to our survey winner, Sam of sunny California (that cool dude to the right)!
And get this: Sam's going to pay it forward and use this new gadget as a prize for his students at City College of San Francisco.
One of his lucky students will get their hands on this iPad Mini!
After all, where's the harm in having just *one* more gadget?