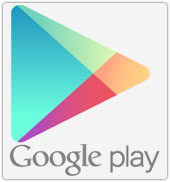 The seedy side of the Android ecosystem has been much in the news recently.
We've seen fake versions of mainstream apps such as Instagram and Angry Birds in third-party app marketplaces.
And even Google's own Play Store has been blighted by approving and hosting malicious apps in a wide variety of shapes and sizes.
So, just one year after the company's open-source programs manager, Chris DiBona, described anti-virus vendors as "charlatans and scammers", Google announced that it was baking an anti-virus system of sorts right into the Android operating system.
Clearly, Google doesn't want its users to be inconvenienced by dodgy and unwanted stuff.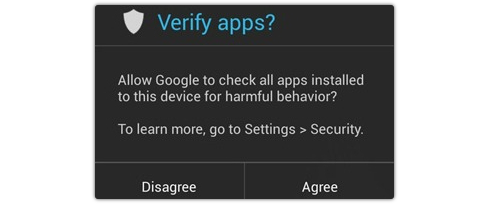 That's good!
Unsurprisingly, however, Mountain View's view of what constitutes "inconvenience" and "unwantedness" doesn't extend to ads.
Quite the opposite, in fact: the search engine behemoth is vigorously defending its advertisers' airtime in the Android world.
Today, Google did a virtual impersonation of Donald Trump, sending a message to a number of popular ad-blocking programs that as good as shouted, "You're fired!"
Jared Rummler, author of the Ad Blocker utility, tweeted earlier: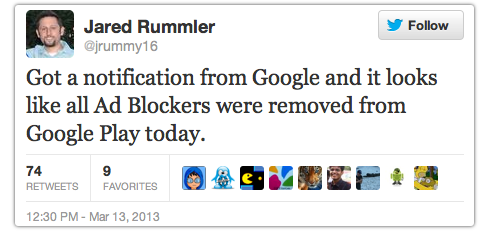 Lest there be any doubt about Google's motivation, he uploaded his Dear Jared letter to Pastebin for all to see:

This is a notification that your application, Ad Blocker * Root *, with package ID com.jrummy.apps.ad.blocker, has been removed from the Google Play Store.
REASON FOR REMOVAL: Violation of section 4.4 of the Developer Distribution Agreement.
AdAway, an open-source ad blocker that doesn't do anything much more dramatic than to edit the Android hosts file to suppress ad-serving sites of your choice, similarly got the chop from the Play Store: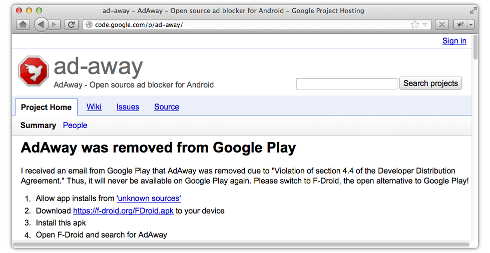 I received an email from Google Play that AdAway was removed due to "Violation of section 4.4 of the Developer Distribution Agreement." Thus, it will never be available on Google Play again. Please switch to F-Droid, the open alternative to Google Play!
The relevant part of Google's Developer Distribution Agreement seems to be the rather broad requirement that you:
agree that you will not engage in any activity with the Market, including the development or distribution of Products, that interferes with, disrupts, damages, or accesses in an unauthorized manner the devices, servers, networks, or other properties or services of any third party including, but not limited to, Android users, Google or any mobile network operator.
This, of course, raises the spectre of a future ban against third-party anti-virus and security software, such as Sophos's own Sophos Mobile Security and Anti-Virus.
After all, many Android security add-ons include features allowing users to control a range of potentially unwanted activities.
The behaviour that third-party security software is expected to regulate includes anything that introduce a risk of:
Reducing safety and security, for example by storing or transmitting user data inappropriately.
Racking rack up unexpected charges, for example through pricy SMSes.
Putting you in harm's way by linking to potentially dangerous websites.
Installing software that is overly annoying or intrusive, at least in the user's opinion.
Clearly, preventing any of the above constitutes some sort of interference with another vendor's services in the market, whether that vendor is a software development company, a mobile phone network or a web provider.
To be fair to Google, of course, a ban from the Play Store doesn't prevent you from using the banned app altogether, as it would on Planet Apple.
Google still gives you the choice to install software from alternative online markets.
Nevertheless, it would be a pity if third-party security software providers were forced to follow the ad-blocker programmers out into the comparative wilderness beyond the Play Store.
We'll just have to wait and see just how even-handed (and open-minded) Google will be with security vendors, and, indeed, if the company will relent and let the ad-blockers back.
Have your say
Should Google back down and recognise that ad-blocking software is something that a well-rounded mobile marketplace ought to tolerate, just as it tolerates ads in the first place?
Or should it defend its revenue-sharing advertisers even in the face of a minority of paying customers who prefer not to be bombarded with marketing?
Have your say in our poll…