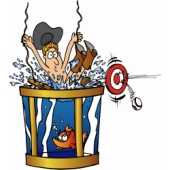 Red Nose Day is a UK-wide fundraising event organised by the Comic Relief charity every two years which culminates in a night of comedy and moving documentary films on BBC One Television.
In the past we have put members of our senior management team into a gunge tank, staged boxing matches on bouncy castles and had a spacehopper race around the Sophos car park.
But this year, we decided to become a bunch of dunkards.
A large tank of water was brought into our offices, and a high tech mechanism devised which involved throwing tennis balls at a switch. If the tennis ball hit with enough ferocity, the Sophos worker would be plunged into the water – to the delight of their baying co-workers who had sponsored their preferred victims.
It was no surprise to find that Sophos CEO Kris Hagerman was high on most people's list for a dunking, and he came prepared with sunglasses, Hawaiian shorts and flipflops. This was definitely a man who knew where his towel was.
Comic Relief is a great charity to support – so make sure to visit the Red Nose Day website to find out how you can help raise funds.
So far the "Sophos Dunkards" team has raised approximately £7000 for charity. Thanks to all who helped!
PS. If you want to see more, check out our Sophos Dunkards photo album on Facebook.