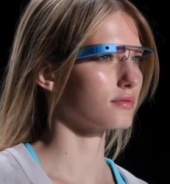 Earlier this week, Naked Security writer Lisa Vaas wrote an opinion piece about Google Glass privacy concerns.
The story received some lively comments, but here's one that caught my eye when I found it sitting in Naked Security's moderation queue.
Someone with a Brazilian email address, and going by the name of "YIN", had left a message in Chinese, pointing to a website that suggests it is related to pre-orders of Google's new magic glasses.
Some helpful folks at Sophos kindly translated the message for me:
"This service is available for sale. I've done my part."

We chose not to approve the comment, but when we visited the link we were taken to a professional-looking website – googleglass-​presale.com – which appeared to be attempting to extol the virtues of Google's internet-enabled headgear.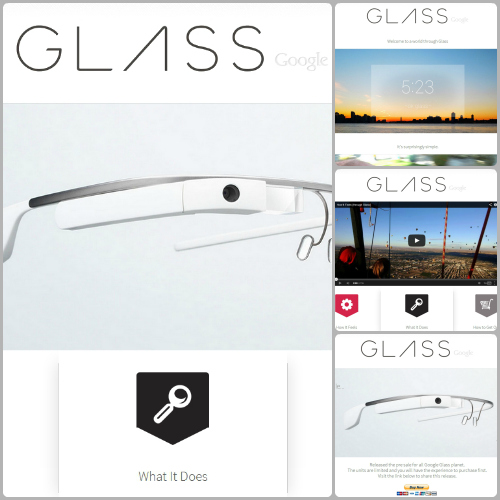 So, is this a legitimate Google website? Judging by the WHOIS information, it's run by a guy in Brazil – and he's only just created it.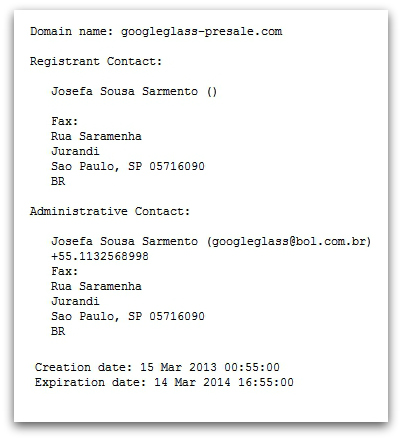 Of course, it's very possible that the WHOIS information for this site has been populated with bogus informastion – and the person referred to has no connection with the site, or what it attempts to be doing.
But one thing's for certain. It doesn't look like the site is an official one run by Google.
And I doubt that Google is leaving comment spam (in Chinese) to promote Google Glass pre-orders on third-party blogs and news sites either.
Should you not care about these tiny details, you might want to do what the website tells you to do, and pre-order Google Glass for them for $499 (plus tax) via PayPal.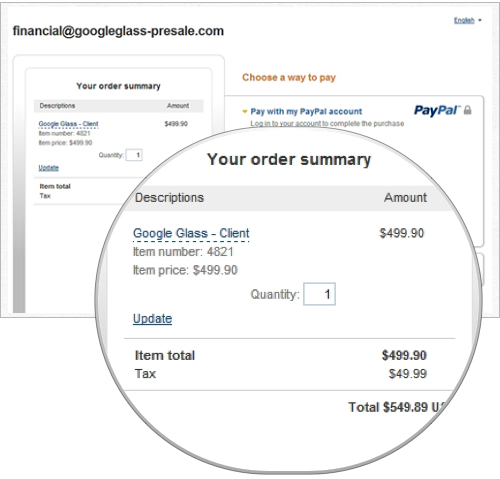 Strange. I feel sure that Google would have encouraged me to use Google Checkout instead.
As the hype around Google Glass continues to grow, it's inevitable that more and more scammers will emerge trying to make a quick 500 bucks from unwary internet users.
So, there's nothing more to say than… keep them peeled. 🙂