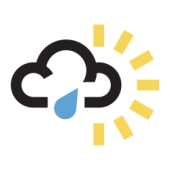 A group calling itself the Syrian Electronic Army has hijacked the official Twitter account of BBC Weather and started posting some strange messages which aren't the typical "partly cloudy.. showers likely" fare you would normally expect.
For instance:
Hazardous fog warning for North Syria: Erdogan orders terrorists to launch chemical weapons at civilian areas
and
Saudi weather station down due to head on-collision with camel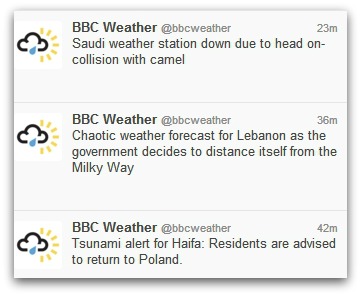 An earlier message claims that the hack of the BBC's Weather account was by a group calling itself the Syrian Electronic Army.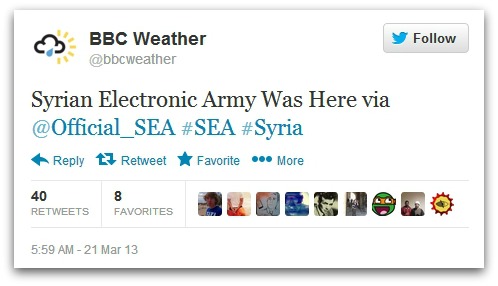 Whether the legitimate owners of the @BBCWeather account were phished, had their password cracked, or made the mistake of using the same password in multiple places isn't currently clear – but what is obvious is that right now they have no control over their account.
And meanwhile, almost 60,000 Twitter users are getting weather reports from the Syrian Electronic Army instead.
The good news is that the hack doesn't appear to have been done with the intention of spreading malicious links, or scams. Instead, it appears that the Syrian Electronic Army are trying to spread political messages about Syria instead.

Thank for hanging out with us! To know the truth about the global terrorist war on #Syria, follow @Official_SEA #SEA
Remember, you should always use hard-to-guess, hard-to-crack, unique passwords for your online accounts that you are not using anywhere else on the web.
Once again, a corporate brand is left wishing that Twitter offered some additional levels of protection – such as two factor authentication.
Update: The BBC has told Naked Security that it is investigating the hack.
Thanks to Naked Security reader @rowansingh for bringing this incident to our attention.