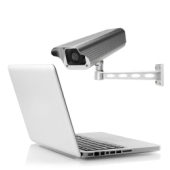 The former IT administrator for the US city of Hoboken, New Jersey, pleaded guilty on Tuesday to hacking into email accounts to spy on the mayor and other staff.
Patrick Ricciardi, 46, formerly the chief IT officer for the office of Mayor Dawn Zimmer, was charged on three counts, according to court documents:
Accessing a computer without authorization,
Intercepting wire and electronics communications, and
Disclosure of wire and electronic communications to a third party.
Ricciardi's admitted hacking was one manifestation of how the mayor's office suffered from bitterly divided political factions, as noted in the official complaint filed [PDF].
Zimmer stepped into her job as acting mayor in 2009 after winning a special election to replace Hoboken mayor Peter Cammarano, who was arrested on federal corruption charges.
(On the close-but-no-cigar corruption meter, note that this is not Felix Roque, former mayor of West New York, N.J., who was arrested last May with his son for allegedly hacking into a site that criticized his administration and for intimidating individuals associated with it.)
(However, if you're thinking, "New Jersey, seriously, what's up?" Then yes, I'm with you.)
The FBI's investigation found that many of the city's elected officials maintained strong ties to Cammarano's administration or were otherwise opposed to Zimmer, to whom they shoveled out grief and impediment on matters large and small.
The schism was reflected in comments on city-related blog postings. It was also reflected in leaks of confidential information, which caused the mayor's office to initiate a security audit.
Excerpt from the official complaint [PDF]: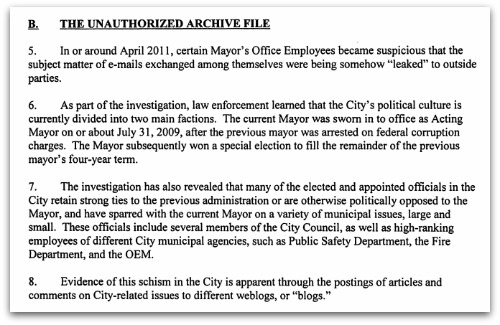 The audit turned up an archive, located on Ricciardi's computer, of all emails sent to or received by Zimmer's account.
When interviewed by the FBI, Ricciardi admitted to configuring the archive file so that it would automatically collect all emails sent to the mayor and two high-ranking city employees.
He then forwarded those emails to three city officials, one of whom printed out a supposedly confidential email and laid it on the mayor's desk.
Ricciardi intercepted the email so that he could "spy" on the Mayor and her employees, he said, and determine whether his job was secure.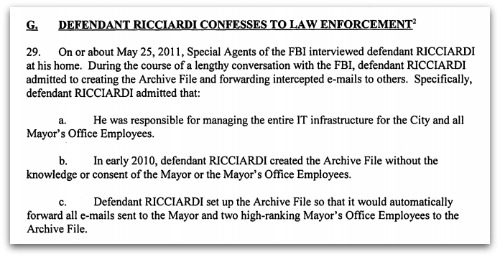 Apparently, breaking federal law to find out if your job is secure is not a good way to ensure that your job remains secure.
Ricciardi is scheduled to be sentenced on July 1, 2013, before U.S. District Judge Esther Salas in Newark federal court.
Each of the three counts carries a maximum potential penalty of five years in prison and a $250,000 fine.
Image credit: Shutterstock