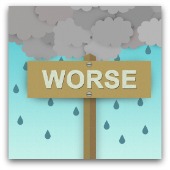 With March Madness Basketball in full swing in America, we thought it might be fun to try and adapt the concept of sport championships to the land of IT security.
So here's is what we are thinking: we have come up with eight security issues and divided them into groups of two. In each group, you select which you feel is worse and then click the Vote button.
That's it. It shouldn't take more than 25 seconds. Who knows? It might be thought-provoking….or just a teeny tiny spot of fun.
Next week, after Easter break, we will present the What's Worse Security Championship semi finals.
Without further ado….
Thanks for taking part. Join us next week if you fancy playing in our What's Worse Security Championships semi-finals.
Worse images courtesy of Shutterstock.