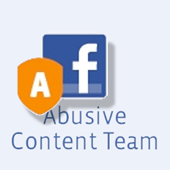 "People use Facebook to stay connected with friends and family, to discover what's going on in the world, and to share and express what matters to them."
Those are the words of Facebook itself. And there's nothing wrong with that.
But, unfortunately, it doesn't tell the whole story.
There are also people who use Facebook to bully others, to spread hate speech, to defraud, spam, and commit online crimes.
In October 2012, when Facebook reached one billion active monthly users, CEO Mark Zuckerberg said he was "committed to working every day to make Facebook better for you".
If compared to the populations of countries, Facebook's more than a billion users dwarfs the likes of the United States, Indonesia and Brazil and is only outranked by China and India. In short, Facebook is colossal.
But what marks out Facebook for special attention is how it polices those many many millions of people.
A quick search on Facebook, using the most obvious of search terms, finds plenty of ghastly content that many good-minded people would find disturbing.
I'm not talking about Facebook pages like "Embarrassing Nightclub Photos", whose whole raison d'être appears to be to humiliate "tired-and-emotional" party-goers – many of whom probably wouldn't have given permission for a photograph of them to be shared on Facebook, if anyone had bothered to ask.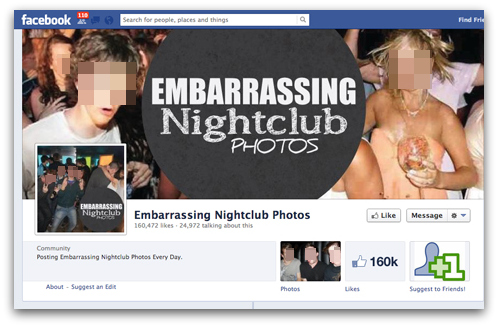 "Embarrassing Nightclub Photos" isn't my cup of tea, but clearly there's an audience for this kind of material (the page has over 160,000 Likes) who have no qualms about checking out and sharing images of people unconscious through over-drinking, who are so drunk they've become incontinent, or have been snapped midway through a vomit.
What is more disturbing to me are pages which take things a sinister step further.
For instance, there are pages extolling the virtues of the date-rape drug Rohypnol which use images of young women in either a drunken or comatose state.
In the following, and other examples used in this article, we have pixellated out the faces of individuals – something which the original posters on Facebook seemingly didn't care enough to do.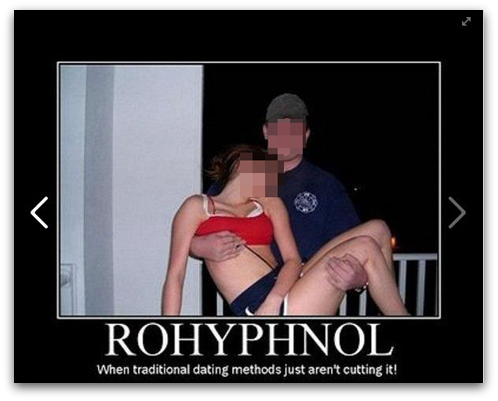 ROHYPHNOL

When traditional dating methods just aren't cutting it!
Is that a funny joke to you? An ill-conceived bad taste joke about rape? Or something more sinister? No doubt, you have your own point of view, and whether Facebook should do more to prevent this kind of content from being shared.
In case you forgot, here's how Facebook describes what it is used for:
"People use Facebook to stay connected with friends and family, to discover what's going on in the world, and to share and express what matters to them."
One wonders how that sentiment sits alongside the "Roofies" page on Facebook, which has over 650 Likes, and a motto which appears to condone use of the Rohypnol date rape drug.
"Roofies", for the uninitiated, is slang for Rohypnol and other sedative pills that can be used to facilitiate sexual abuse.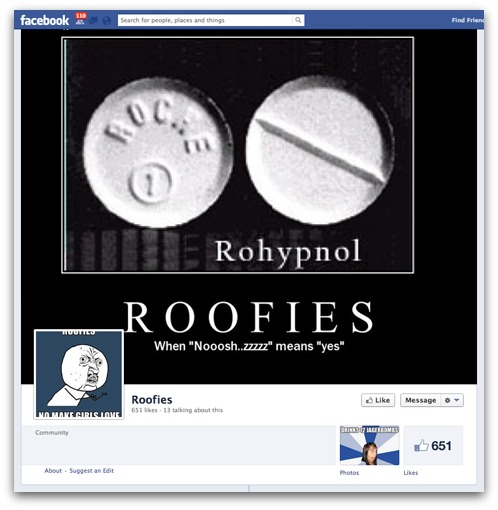 ROHYPNOL ROOFIES When "Nooosshh..zzzzz means "Yes"
Pretty unsavoury stuff, I'm sure many of you'll agree. And there are plenty of other posts on the page which can only be described as pro-rape and against a woman's right to decide if she wants to have sex or not.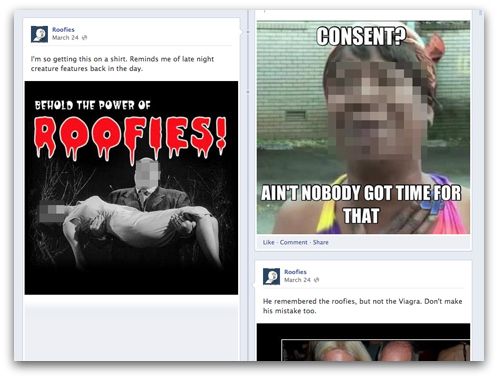 And there's more. A simple search of Facebook using offensive phrases can bring up no end of unpleasantness.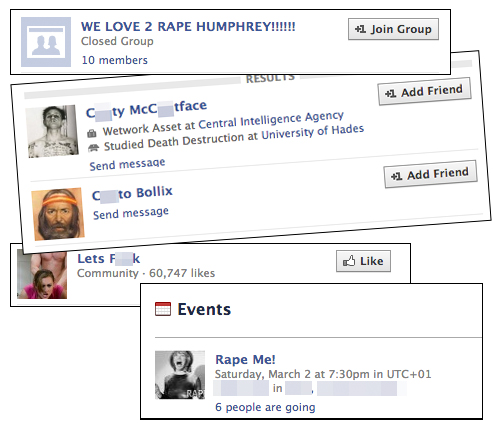 If you were a Facebook advertiser, how would you feel about your advertisement appearing on Facebook pages containing that kind of content? Is it something your brand would like to be associated with?
If it only took me a few seconds of searching to find content like this on Facebook, why can't Facebook search for similarly offensive phrases and take action against unsavoury content.
It's not as though only the only users of Facebook are broad-minded, unoffendable, adults.
Although young people under the age of 13 years old aren't allowed to log into Facebook, it's estimated that millions of pre-teens do go onto the social network every day. They, like the rest of us, can easily come into contact with this kind of offensive material on Facebook. They may even end up the victims of some of it.
Sadly, the onus is on Facebook users themselves to report abuse – which (might) then be followed-up by Facebook's four different abuse teams.
According to Facebook, abuse complaints are normally handled within 72 hours, and the teams are capable of providing support in up to 24 different languages.
If posts are determined by Facebook staff to be in conflict with the site's community standards then action can be taken to remove content and – in the most serious cases – inform law enforcement agencies.
Facebook has produced an infographic which shows how the process works, and gives some indication of the wide variety of abusive content that can appear on such a popular site.
The graphic is, unfortunately, too wide to show easily on Naked Security – but click on the image below to view or download a larger version.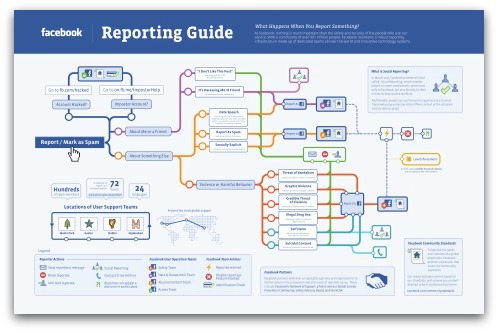 Of course, you shouldn't forget that just because there's content that you might feel is abusive or offensive that Facebook's team will agree with you.
As Facebook explains:
Because of the diversity of our community, it's possible that something could be disagreeable or disturbing to you without meeting the criteria for being removed or blocked. For this reason, we also offer personal controls over what you see, such as the ability to hide or quietly cut ties with people, Pages, or applications that offend you.
My own experience from a few years back (when my wife's life was threatened, I was labelled a paedophile, and Facebook users warned that they would burn my house), was that Facebook chose to take no action until the press got wind of the story.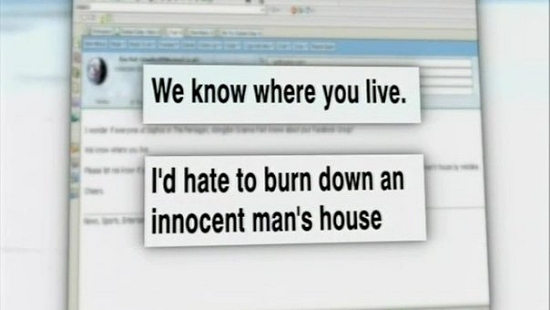 I would like to think things have got better since then – but the emails we receive at Naked Security from Facebook users suggest many still feel they aren't being properly protected from Facebook abuse.
The sheer amount of offensive material residing on Facebook says to me that leaving it up to the community to report offending content isn't working.
In my opinion, Facebook needs to invest resources and technology into pro-actively cleaning up its community, rather than relying on the community to police itself.
We would be interested in hearing about your experiences when you report abusive content to Facebook. Were you happy with Facebook's reponse? Join the discussion on our Facebook page