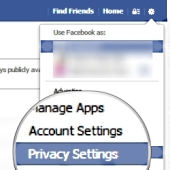 Many internet users are wary of sharing their personal information willy-nilly with the world, but did you know that sometimes it's your friends who might be unwittingly passing your private details on?
Take Facebook, for instance.
You might believe that you have carefully controlled what people you choose to share your photos and personal information with on the social network. And maybe you're really careful about what third-party Facebook applications you allow to have access to personal details such as your birthday, your status updates and educational and work history.
As we have explained many times before on Naked Security, you should always be careful about which Facebook apps you allow to connect with your account, as they can collect varying levels of information about you.
If you aren't comfortable with the information a Facebook app wants to access, don't install the app.
But it seems that some Facebook users aren't aware that – unless you have locked down your privacy settings correctly – the apps, games and websites that your *friends* use can also access your personal details, photos and updates.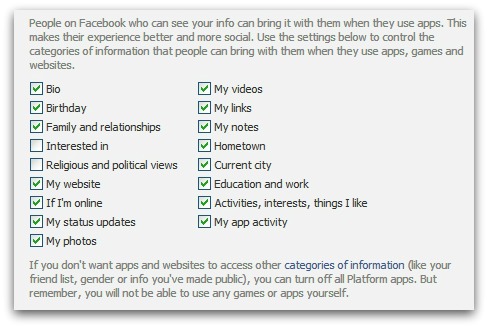 Even if you have rejected particular apps from connecting from your Facebook profile, you have no control over what apps your friends and family have chosen to connect to their profiles.
Your friends and family may not be being as cautious as you are about Facebook apps – and you may not realise that when other Facebook users choose to install apps they can then share the information they can see about you with those apps.
Facebook argues that allowing other people to share your info with third-party apps makes the "experience better and more social". Your opinion may vary from theirs, however.
Fortunately, Facebook gives you a way to change the default setting to share this personal information – and protect your private details.
Here's what my locked-down Facebook profile looks like: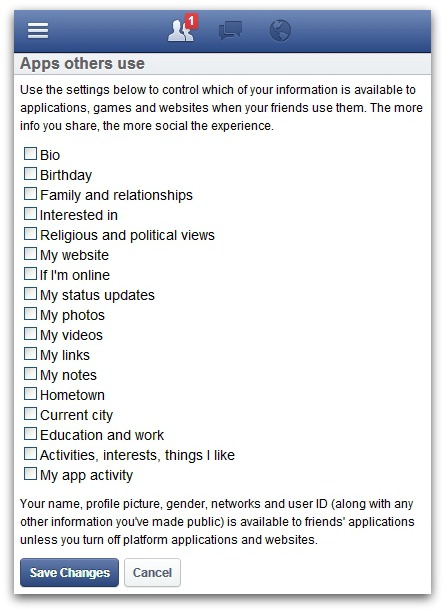 You'll find the option to control how this content gets shared under the "Apps/Apps Others Use" section of your Facebook privacy options.
Visit your Facebook privacy settings and untick each option if you wish to limit what information about you your Facebook friends can share with third-party applications.
If you *really* have no interest in Facebook apps, and want to take a bolder stance against them there is a "nuclear" option which some users may prefer.
Facebook gives you the ability to disable what they call "Platform". Of course, this means you won't be able to log into apps or websites using your Facebook credentials, and your Facebook friends won't be able to share content with you via apps, but it may be an option chosen by the more privacy-conscious Facebook user.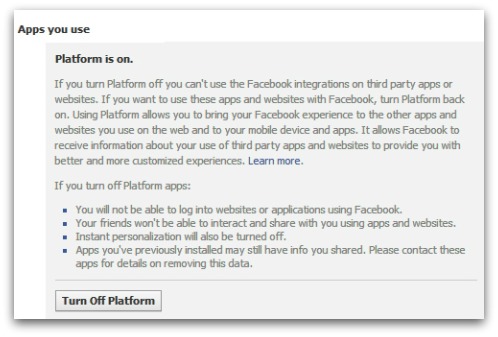 This option, if you want to take it, is also available via your Facebook privacy settings.
Don't forget you should join the Naked Security from Sophos Facebook page, where we keep you up-to-date on the latest security and privacy issues threatening Facebook users.