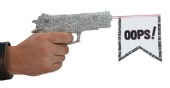 Stakeouts and firearm seizures are dangerous. They put police officers' lives at risk.
Fortunately, 63 alleged members of three rival drug and gun gangs have, to some extent, lessened the risk by spoon-feeding New York police, serving up allusions to their alleged crimes in slangy, atrociously spelled postings to Twitter, Facebook and YouTube.
According to the New York Post, the Manhattan Supreme Court was churning through arraignments on the defendants throughout the day on Thursday.
Eighteen alleged members of the gangs – named "Air It Out", "True Money Gang" or "Trillas", and "Whoadey" – are still at large.
According to officials, the alleged gang members are responsible for three murders and some 30 shootings.
Here are some excerpts the newspaper quoted from the "massive" conspiracy indictments, which reporters deciphered with the aid of a two-page slang glossary:
Facebook posting of alleged member of the gang Air It Out:
"God forgives I don't... somebody gotta die"
Posting from another alleged Air It Out member:
"I'm 2 Glocks strapped, rolling down 112th Madison, 116 this is the New Iraq"
Posting from yet another alleged Air It Out member:
"I'll give u $300 if u clap a Trill or Whoadey before October" [clap being slang for "shoot"].
The New York Post included these additional slang definitions:
2&5 train = .25 caliber gun
Air it, dump on, pop a bottle, play the flute = fire a gun
Biscuit, b*tch, blamer, clickety, drum set, flocka, girlfriend, grip, instrument, ratchet, little piece of metal, shorty, speaker, toy, utensil, flamingo, sandwich = gun
Boys = police
Bread = money
Cro = friend
Food, gas, sea shellz, electricity = bullets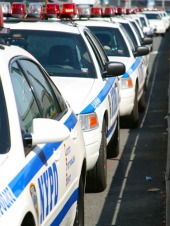 The Manhattan District Attorney's Violent Criminal Enterprise Unit, the New York Police Department's Gang Division, and police from the 23rd and 25th precincts and from Police Service Area #5 (123rd Street between 2nd Avenue and 3rd Avenue) worked three years to collect the evidence – work that did, in fact, include dangerous surveillance and gun seizures.
Gangsters using social media to brag about their crimes is nothing new.
Fortunately, they don't seem to be smart enough to know that police use social media, in spite of examples such as Hannah Sabata, a US woman arrested in December for robbing a bank after posting a YouTube video about robbing a bank.
Nor, for that matter, do they seem to read news accounts or even listen to the grapevine, which might have tipped them off that police monitor Facebook to get status updates on, for example, "break-in day" in Brooklyn.
"We use social media to document past crimes and intercept new ones being talked about openly by crew members on Facebook, Twitter and YouTube," said Police Commissioner Raymond Kelly.
For the sake of crime investigators, may criminals stay at least this obtuse.
Also, beware of bragging on social media channels if you favor flamingo sandwiches, and for pete's sake, if you're in the habit of playing the flute with your girlfriend, handle your flute-playing updates with a bit of discretion, lest you pique the interest of the NYPD.
Don't forget you should join the Naked Security from Sophos Facebook page, where we keep you up-to-date on the latest hoaxes, scams, security and privacy issues affecting Facebook users.