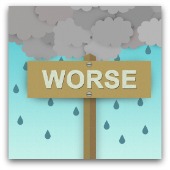 As many of you know, we have been running our own security championships.
It started a few weeks ago with this post.
Thanks to the thousands of you who voted.
Click here to the see the results of the preliminary round
So the What's Worse winners, if they can be called that, are now pitted against one another in our final, shown below. Cast your vote in our What's Worse Final Championships:
That's it. We will announce the winners in this blog post next week. And thanks for taking part.
Update: Thanks to an anonymous reader who noticed a flaw in our finals. We fixed it and restarted the poll. Sorry to those few who had already voted.
Worse images courtesy of Shutterstock.