It is estimated that, during their lifetime, computer users will have spent three whole months installing Adobe updates.
Okay, that statistic is made up – but the seemingly endless stream of security updates and fixes that emerge from Adobe HQ for their Flash and Acrobat Reader products certainly make it feel like that sometimes.
Fortunately web comic XKCD is around to spread a little sunshine in a cartoon dubbed "All Adobe Updates":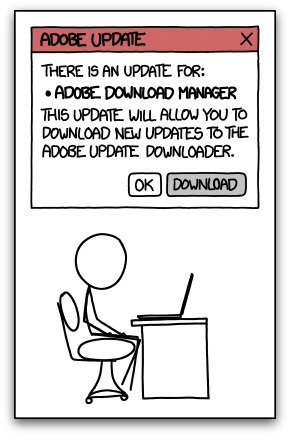 ADOBE UPDATE

THERE IS AN UPDATE FOR:

* ADOBE DOWNLOAD MANAGER

THIS UPDATE WILL ALLOW YOU TO DOWNLOAD NEW UPDATES TO THE ADOBE UPDATE DOWNLOADER.

[OK] [DOWNLOAD]
By the way, don't you love how there are only two options: "OK" and "Download"? Not much choice there.
As is common with XKCD cartoons, there is a little easter egg visible if you hover your mouse over the image:

By the way, Adobe issued security fixes for Flash, Shockwave and Coldfusion yesterday…
You had best get updating. Again.
Via XKCD.