Do you like Naked Security?
If so, why not vote for us in the inaugural European Security Blogger Awards?
The awards take place alongside the Infosecurity Europe event, which runs from from 23-25 April 2013 at Earls Court in London.
Just like the annual Security Bloggers Awards at the RSA Conference in San Francisco, the European Awards aren't judged by an industry panel on behalf of the industry.
Instead, the Awards are meant to to be "a fun platform to recognise those who share with the community."
That, in turn, means that you get to decide which security writers have been doing the best job of educating and assisting the community, corporate and personal, over the past year.
→ The US-based Security Bloggers Awards work on nominations by the general public and voting by anyone in the security blogging community, so it's writers voting for writers. For the the European Awards, however, voting is open to everyone, so it's readers voting for writers.
Naked Security has been nominated in numerous categories:
Best Corporate Security Blog
Best Personal Security Blog
Most Entertaining Blog
Most Educational Blog
Grand Prix Prize for the Best Overall Security Blog
Additionally, and most deservedly in my opinion, Naked Security's own Graham Cluley (@gcluley) has been nominated as the Best EU Security Twitterer.

You can vote for Naked Security in any or all of these categories – and, of course, for Graham as the Twittermeister of European security – by visiting the Blogger Awards survey page.
The winners will be announced at a Bloggers' bash at the Prince of Teck pub near the Earls Court exhibition centre on the first evening of the Infosecurity show, Tuesday 23 April 2013.
Voting is open until Sunday 21 April.
Despite the fact that the awards have European nominees, anyone can vote from anywhere in the world.
So if you're a Naked Security fan from North or South America, Africa, Asia, Oceania or even Antarctica, you can have your say as well.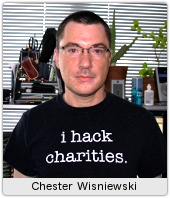 By the way, if you're going to be attending the Infosecurity event, please drop by at the Sophos booth and say, "Hi."
Fellow Naked Security writer Chester Wisniewski will be giving regular talks on the stand, taking you Inside the Blackhole Exploit Kit, and using a live malware demo to trace the history of Ransomware from 1989 to 2013.
Chester is a entertaining, passionate and educational speaker, and I heartily recommend that you stop by and listen.
(If you do, be sure to tell him "G'day" from me!)