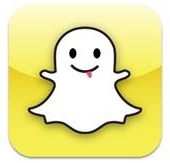 Snapchat, which claims to deliver more than 150 million saucy photos per day between users' mobile phones, has suffered this week from a spam attack.
It's possible – if you are over the age of 17 – that you still don't know what Snapchat is.
It's a smartphone app, available for both iPhone and Android devices, that allows users to control how long a sent message or picture can be seen for, before it expires after a maximum of 10 seconds.
Still not getting the idea? Well, maybe this will help explain the attraction. The service has become notorious because some have touted it as a way of safely "sexting" and sharing naked pictures. Meanwhile, others have argued that it's not safe at all.
What isn't in doubt, however, is that Snapchat has become immensely popular – particularly among young people.
And so it wasn't really a surprise to see users complain that they had been sent photos from scantily-clad women with names such as "Honey.Crush9" inviting them to join them in a Skype conversation.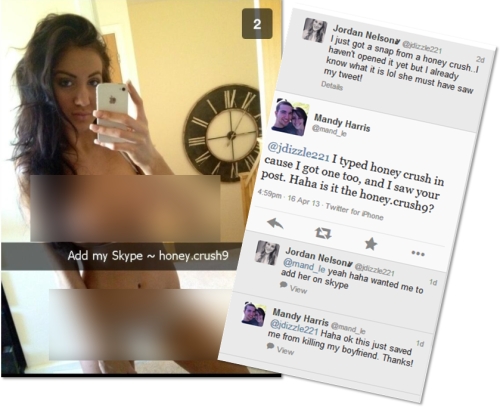 Receiving such a sleazy photograph can certainly get you into trouble (see the Twitter conversation above, where one user explains her boyfriend would have had some serious questions to answer if "Honey Crush" had turned out to be a secret saucy admirer of his rather than a spammer), but there are other potential security risks.
The messages sent via Snapchat encouraged recipients to connect with the apparent sexy senders on Skype. Once you've made sexy Honey your Skype friend, she could exploit you in a number of ways.
For instance, "she" could send you malicious links with the promise of a webcam chat, or send you spammy links to a dating website, or make automated Skype calls to spread fake anti-virus warnings.
In some of the more eyebrow-raising situations she might enter into a steamy webcam conversations with you, where she strips and encourages you to do the same… only to take photos and video footage for the purposes of blackmail.
Snapchat's CEO and co-founder Evan Spiegel posted a message on the site's official blog apologising for the spam attack, and offering advice to users.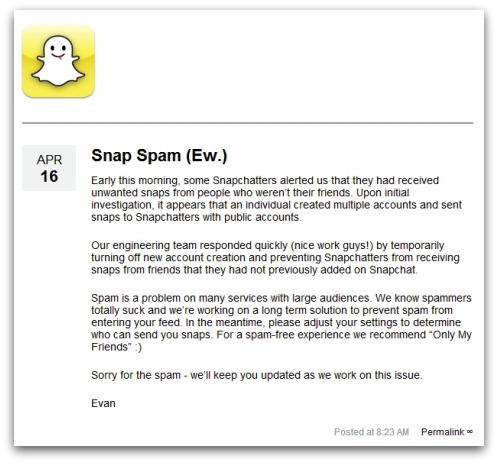 The reason why so many people received unsolicited photos from Honey Crush and her spamming counterparts is that Snapchat allows anyone to send you photo messages. By default, anyone who knows your username or phone number (or who can guess it) can send you a message.
To protect yourself from Snapchat spam like the examples seen above, you can configure the app to only accept messages from users on your list of friends.
According to Snapchat's FAQ, you can change this setting. It tells users to tap the camera icon as if you are going to take a picture, then, tap the square button on the bottom right corner of the screen.
Select "Settings", go to "Who can send me snaps…", and select "My Friends" instead of "Everyone."
What a shame Snapchat didn't make this the default in the first place…