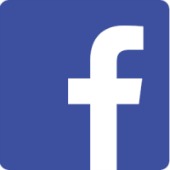 Seventeen-year-old Caitlin Talley, of the US state of Tennessee, was killed in October after being thrown from a pickup truck in a violent crash that police believe involved a drunken driver.
As many mourners have done, those who loved Talley erected a memorial Facebook page in her honor.
Reece Elliott, 24, of South Shields, UK, has admitted that in February, he signed on to that tribute page under a false name and threatened to kill "at least" 200 people.
Elliott – who described himself as a "part-time troll" who wanted to post offensive content to see what type of reaction he could provoke – confessed to having posted the following threats to school children and to his own father, according to the BBC: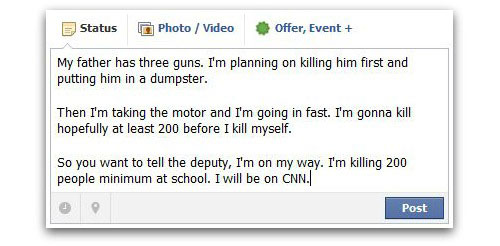 "My father has three guns. I'm planning on killing him first and putting him in a dumpster.

"Then I'm taking the motor and I'm going in fast. I'm gonna kill hopefully at least 200 before I kill myself.

"So you want to tell the deputy, I'm on my way. I'm killing 200 people minimum at school. I will be on CNN."
The day after the threats were posted, 3,000 pupils stayed home as schools in Warren County, Tennessee went into lockdown, posting armed guards and restricting access.
Elliott is himself the father of one, according to The Examiner.
He admitted one count of making a threat to kill and eight of sending grossly offensive messages, the Examiner reports.
The judge, James Goss QC, remarked that a prison sentence will be "inevitable" in sentencing.
Per the Examiner:
"You will remain in custody until the sentence hearing, as I'm sure you will appreciate the offences are serious matters. A prison sentence is of course the inevitable sentence in respect of these offences."
According to prosecutor Gary Buckley, Elliott was "well aware that he was wanted" and turned himself in to South Shields Police Station.
Buckley said that Elliott told police he was also aware of recent incidents of school shootings.
Those shootings include the horrific case of Sandy Hook in December, in which 20-year-old Adam Lanza fatally shot 20 children and six staff members at an elementary school in Newtown, Connecticut.
Elliott told police that while he did post the death threats on Facebook, he "didn't expect the threats to be taken seriously and didn't expect them to cause the reaction they did," Buckley said, according to The Guardian.
Is anybody really that dense?
Unfortunately, yes.
How do we deal with such cretins?
Like Graham Cluley – who has himself been targeted – said in this story about how to deal with internet trolls, ignoring them should be rule No. 1.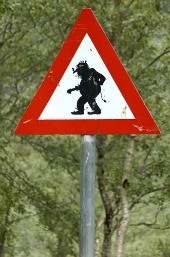 Don't give them the attention on which they feed. Hopefully, they'll starve and go away.
That rule applies to death threats. Don't feed trolls who commit this illegal act. I'd edit the rule to read "don't respond to trolls," though.
Instead of ignoring trolls, and instead of feeding their nauseating need for attention, report them.
Harassment is serious. Report the troll to whatever site you're using, and block them if possible.
As far as trolling goes, don't. If you can, try to stop others from committing this obnoxious act.
If morality and ethics don't stop a potential troll, maybe the threat of jail time will.
Just because a troll cooks up a bogus name most certainly does not make him anonymous, and it certainly won't keep him out of prison, as Reece Elliott has discovered.
Images of fingers on keyboard and troll courtesy of Shutterstock.