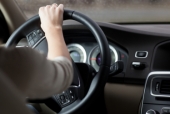 The owner of a jewelry store believes that one or more burglars stuck GPS devices on her car and on her son's car.
That, she figures, enabled them to track when her house would likely be empty so they could break in.
One suspect, who's already facing charges related to other crimes, was charged early last week in connection with the break-in, which happened in March, according to The Kansas City Star.
The jewelry store owner, who lives in a suburb of Kansas City in the US state of Missouri, wasn't identified.
The alleged burglar, Steven Alva Glaze, is facing 14 counts of criminal damage to property, theft, attempted burglary, and burglary.
According to the Star, Leawood, Missouri, police arrested Glaze, 36, on March 21 after a homeowner saw someone peeking in a window in the same neighborhood as the jewelry store owner's house – Overland Park – and then breaking out glass next to his front door.
The homeowner shouted, causing the man to run. A passing patrol car then intercepted a car that Glaze was driving.
He was initially charged in that case and with a burglary and theft the same day in Overland Park.
Prosecutors declined to comment on the victim's allegation about the GPS devices.
On the day the woman's home was burglarized, her alarm system went offline about 2 p.m. for an unknown reason, according to the Star.
One of her neighbors said that a truck pulling a trailer pulled up to the woman's house and then backed into the driveway.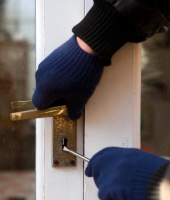 According to the Star, the woman said she came home about 5:30 p.m.. She found her garage "was like a war zone," as the burglar(s) apparently ransacked things she was keeping there during a renovation.
Glaze is accused of stealing more than $100,000 in jewelry, purses, wallets, luggage, coins and fur coats from the woman. She said her loss is more like three times that amount.
Ars Technica's Cyrus Farivar writes that it's apparently "quite rare" for criminals to use GPS to track victims.
It's probably just inevitable, though, given how often GPS devices get stolen nationwide, as Farivar notes.
How many? I couldn't find the number with a casual search, though About.com says (with neither date, source nor specific country – grrrr!) that 25,000 GPS devices are reportedly stolen from vehicles annually.
What About.com does have are these good tips on avoiding GPS theft:
Either remove your GPS from its mounting point take it with you, or stow it completely out of sight, including the mounting bracket and power port cord.
Wipe off that telltale GPS-mount suction cup ring. Thieves might well break in if they think you've stashed a valuable GPS device somewhere. Either wipe the interior window shield regularly with glass cleaner and a soft rag to get rid of the residue that leaves the suction cup ring, or carry a washable microfiber cloth (available in auto and home stores) to wipe off the ring.
Record and store the serial number of your GPS. You can often do this automatically as part of an online registration process while your GPS is connected to your PC by its USB cable.
If your GPS device has a configurable "home" address button in its menu, don't set it for your home address. You don't want to serve up that data on a silver platter to thieves, particularly if they also get their hands on your garage door opener or a spare key you might have left in your car. Instead, set the "home" button for a familiar intersection or business near your home.
But how do you avoid having a burglar track you by sticking a GPS device onto your car?
Fortunately, that's a rare occurrence. Most of us probably don't have to do a visual sweep to see if somebody's stuck a GPS device onto our cars.
At any rate, if you do a search on the tiniest GPS devices out there, you'll see that – whoa! good grief! They're really that tiny?! – if burglars got "Mission Impossible" sophisticated, you'd likely never spot the teensy things even if you did do a visual sweep.
I'm putting one of those on my cat, stat.
Images of Woman driving a car and Burglary courtesy of Shutterstock.