It looks like internet access into and out of Syria has been deliberately shut down.
Just take a look at this traffic graph from Akamai, showing a dramatic and abrupt change at about 18:45 UTC.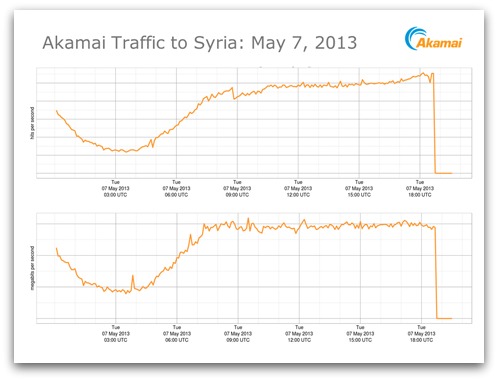 Umbrella Security Labs report that Syria's two TLD servers – ns1.tld.sy and ns2.tld.sy – are unreachable.
Sure enough, if you try to reach Syrian websites right now – you'll probably find it impossible.

It's not clear what has caused the problem, but there will no doubt be speculation as to whether the country's rulers chose to unplug themselves from the net for reasons best known to themselves.
It's bad news, of course, for those wanting to see what is happening in the country – and for those inside Syria who wish to communicate with the outside world.
To be flippant for a second, this outage might at least shed some light as to whether the Syrian Electronic Army (who have been causing quite a nuisance by hacking media organisations lately) are *really* based in Syria, or not as some tend to suspect…