Ah Colin, we were wondering where you were.
The Sky News Twitter account looked as though it had been hijacked earlier today when the following tweet was posted: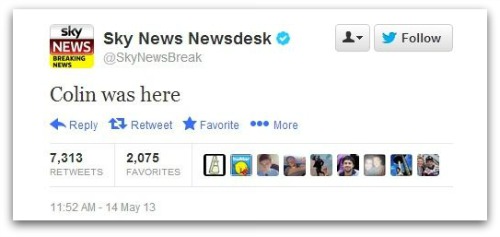 Colin was here
The tweet was quickly deleted, but not before over 7500 people had retweeted it.
Sky then issued the following statement:

@Skynewsbreak Twitter Account Hacked

Earlier today the @skynewsbreak twitter feed was hacked and a single message sent.

Action was swiftly taken and we are working with Twitter and our in house security to ensure this cannot happen again
But "hacked"? Really?
Well, no, actually. As Sky said in a follow up statement (and saw the funny side, it seems):

Colin update

Further investigation uncovered, to our relief, that Colin was in fact a 'disaster recovery' test message which accidentally went live. Apologies.

......no Colin was harmed in the making of this message.
Who sent 'Colin' live remains to be seen.
Let's take this as a reminder to us all to always choose a strong password and keep it secret.
And always keep our computers locked when nature calls.