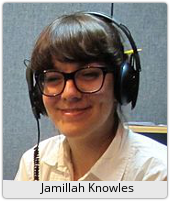 Outriders is a BBC Radio 5 Live programme that describes itself as "exploring the frontiers of the web."
It's hosted by Jamillah Knowles, and it goes to air early on Tuesday mornings.
In this week's show, Jamillah interviewed Naked Security's Paul Ducklin about the cybercrooks who were recently indicted in New York for their part in a modern day bank robbery: a global ATM heist that netted $45,000,000 worldwide.
Ever wondered how cybercriminals turn electronic trickery into cold, hard cash? What sort of person gets drawn into this sort of crime? Who bears the cost? And how do the cops arrest the perpetrators when they might be dozens of network hops away?
If you're interested, you can download the programme as an MP3 from the BBC's podcast repository, check out this and all previous Outriders shows on the BBC Podcasts website, or "tune in" and listen directly from the BBC's site now:
Duck is on for the first ten minutes of the show.
Enjoy!
And remember: think very carefully if you're approached with a "business opportunity" handling money for other people, particularly if the "job" involves accepting electronic deposits from someone else, and then withdrawing cash and remitting it overseas to your "employers."
If it's your money you withdrew, but the deposits turn out to be fraudulent, then you're left holding the baby.
The electronic deposits into your account can be reversed if the bank wants its money back; the cash transfers out of your account overseas cannot be reversed if you want your money back.
If it's not your money you withdrew, but funds from an account you were told about online, then things could get even worse: you could end up in front of a court on charges such as fraud and money laundering.