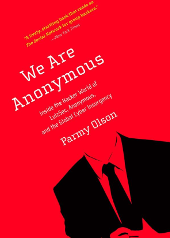 I had the privilege of interviewing Forbes journalist and author Parmy Olson after the RSA Conference in San Francisco in February.
We sat down in the beautiful Yerba Buena Gardens to discuss her book "We are Anonymous" and her thoughts on the upcoming (at the time) sentencing of the LulzSec hackers.
We also discussed her recent visit to Mobile World Congress in Barcelona and her thoughts on Firefox OS.
It might seem a bit late to publish this podcast, but there was a press embargo in the UK at the time it was recorded and we decided to be respectful of that and wait to publish until the accused were convicted and sentenced.
You may notice some odd noises in the background — a dog barking, a shopping cart and birds tweeting. I interviewed Parmy in the middle of the park, so you should consider any extraneous noises as ambiance.
(If this is your first time listening to a Sophos podcast they are ideal for your daily commute or for a spot of lunchtime listening. There's an archive of previous podcasts – you can also get our podcasts via RSS or iTunes.)