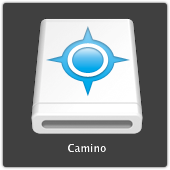 Camino, the first browser that was purposefully made for Apple's OS X, has officially reached the end of the road.
If you were an OS X user when it first came out you were pretty much stuck with browsers that came from other operating systems, such as Internet Explorer for Mac. (Yes, that Internet Explorer.)
Camino was different.
Although it used Mozilla's web rendering engine, known as Gecko, it didn't use Mozilla's cross-platform user interface specification language, XUL.
Camino was written to be a native OS X application, using the Cocoa API and OS X's Aqua user interface.
It was the first OS X browser that really was an OS X browser.
Apple must have liked what it saw, because it hired one of the main coders of the Camino project (then called Chimera, a name that was shed early on for legal reasons) to work on its own Safari browser.
Unfortunately, being a minority browser created by a small group of enthusiasts is really tough in the modern world.
You're not only facing the healthy competition of other browser vendors, but also the unhealthy attention of cybercriminals.
Regular security updates, which are these days typically interleaved with feature updates, are a must.
Camino also faced the challenge, back in 2011, of switching web rendering engines, because Mozilla decided to stop supporting the embedding of the Gecko engine by third-party products.
As a result, Camino's last release was more than a year ago, and late last week the development team decided to pull the plug permanently.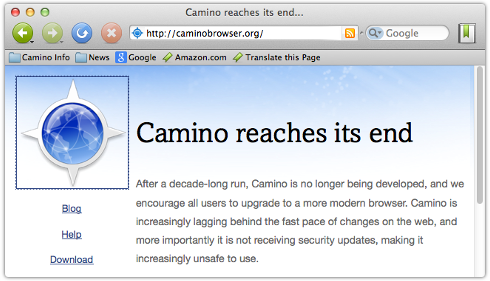 After a decade-long run, Camino is no longer being developed, and we encourage all users to upgrade to a more modern browser. Camino is increasingly lagging behind the fast pace of changes on the web, and more importantly it is not receiving security updates, making it increasingly unsafe to use.
Ironically, you can still download Camino 2.1.2.
It still works just fine, reporting 99/100 on the Acid3 browser compliance test. (Chromium and Firefox on OS X complete 100 of 100 tests, but produce a rendering error causing them to display the telltale YOU SHOULD NOT SEE THIS AT ALL warning.)
But, as the developers have reminded us, security updates really are vitally important, so it's time to say, "Farewell, Camino."