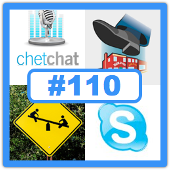 Episode #110 of our popular Chet Chat podcast series is out.
Chet and Duck (Chester Wisniewski and Paul Ducklin) offer you an infusion of interesting insights into the latest computer security news.
If this is your first time listening to the Chet Chat: episodes come out every two weeks, and usually last about a quarter of an hour.
That makes the Chet Chat podcast ideal for your daily commute or for a spot of lunchtime listening.
(You can keep up with our podcasts via RSS or iTunes, and catch up on previous Chet Chats and other Sophos podcasts by browsing our podcast archive.)
Chet Chat episode 110 shownotes:
• Microsoft Skype. Is it really a privacy nightmare that Microsoft is extracting URLs from Skype instant messages to scan for dodgy links? Can we reasonably infer from this that Redmond must be listening to our calls as well?
• The IP Commission Report. A US think tank published a report which seems to suggest that we should go after pirates by locking your computer and forcing you to contact law enforcement to get the password. Legalised ransomware? Is that really what the report said? And, even if it did, is that such a bad idea?
• Small business cybersecurity. A UK survey claims that only 36% of small businesses patch regularly. Should we be surprised? Does it matter? What about the 17% that the survey says don't patch (or concern themselves with cybersecurity) at all?
• CSAWs. Cybersecurity Awareness Weeks are a good idea. But what should those of us who already care about cybersecurity do by way of participating?
• The AusCERT 2013 #sophospuzzle. The fastest three finishers didn't win a prize because the prize draw included all 58 finishers randomly. So Chester persuaded Duck to give them a shout out in the podcast: @pirate_security, Lee Cronin and Phil Rhea.
Don't forget: for a regular Chet Chat fix, follow us via RSS or on iTunes.
Image of small business crushed by foot courtesy of Shutterstock.