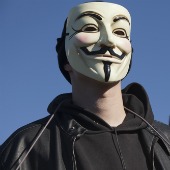 A man claiming to be the leader of the Anonymous campaign that leaked information about the Steubenville, Ohio rape case has unmasked himself and told news outlets that an FBI SWAT team raided his home in April.
He now anticipates being targeted in a related hacking and identity theft investigation.
No court documents supporting his fears were available by the time this article posted, which may just mean that charges haven't yet been filed.
According to Gawker, the head of Anonymous's "Operation Roll Red Roll" – named after the booster club's site for the "Big Red" high school football team, of which two players were found guilty of rape – is Deric Lostutter, an independent, 26-year-old IT security consultant who lives in Winchester, Kentucky, in the US.
Lostutter spoke to Mother Jones about the raid and his true identity.
Lostutter is aka KYAnonymous.
He gave an interview to CNN about the Steubenville rape case while wearing a Guy Fawkes mask, saying that "We are neither the judge nor the jury, but it's fair to say we are the executioner."
As the New York Times' Juliet Macur wrote in December 2012, the story caught fire after Anonymous started to collect and publicize incriminating evidence that the police apparently failed to follow up on, including an Instagram photo and Twitter posts including the words "rape" and "drunk girl."
Hackers affiliating themselves with the Anonymous brand dedicated themselves to ferreting out social media materials – including photos and an appalling 12-minute video of one football team member who joked about having seen the attacks and how he'd have let the victim die if she'd been his own daughter – after crime blogger and former resident of Steubenville Alexandria Goddard started writing about the case last year.
Lostutter denies having participated in hacking the team's fan page – RollRedRoll.com – and points out that a hacker known as Batcat has publicly taken the credit.
Batcat says he hacked the email of Jim Parks, who runs the fansite for the football team, after claiming that "Tips received from anonymous high school students in Steubenville have indicated it is possible James Parks was receiving images from 'The Rape Crew' of their 'various conquests.'"
Batcat told the local Ohio Herald-Star newspaper in February that getting into the account was simple as pie: namely, he guessed that the answer to a password reset question for Parks's email account was "Big Red."
Lostutter says that a dozen armed Federal Bureau of Investigations (FBI) agents on April 15 raided his home, arresting Lostutter, his brother, and a sibling's girlfriend; confiscating computers, storage media and his XBox; and warning the trio not to discuss the case, lest they face charges of "tampering with evidence", according to the Register.
Mother Jones claims that Lostutter has been charged with offenses that could carry a prison sentence of up to 10 years.
The thought of such harsh punishment potentially being meted out to a hacker seen as a white knight – a sharp contrast with the light sentences given to the victim's rapists – is sparking outrage.
The two football players – Trent Mays, 17, and Ma'lik Richmond, 16 – were both sentenced in March to at least one year in juvenile jail and could be held until they turn 21. Mays was sentenced to one additional year for a charge related to distributing nude images of a minor.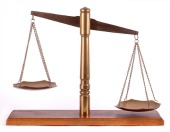 Lostutter is being represented by a group of attorneys that calls itself the Whistleblowers Defense League.
The group has put up a site to solicit funds to help defray Lostutter's legal costs.
However, the Whistleblowers Defense League hasn't posted details of the charges against Lostutter. By the time this article posted, the group hadn't returned my call.
The Register's Iain Thomson writes that the news outlet doesn't condone criminal hacking or cracking.
Neither does Naked Security, of course. Particularly in light of subsequent death threats made against one football team member who claims he wasn't even at the parties where the rapes and assault occurred.
But I'm with Thomson when he writes that it's "somewhat ridiculous" that rapists get off with light sentences while a hacker who helped expose their crime faces a potentially much harsher sentence.
At this point, however, it's not even clear that Lostutter is being charged with anything, let alone something that could be punished with 10 years in prison.
I'll update this post if his defense team gets back to me to clarify this muddy, alarming case.
Image of Guy Fawkes mask and justice scale courtesy of Shutterstock.