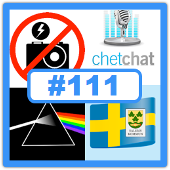 Episode #111 of the Sophos Security Chet Chat podcast is here.
Chet and Duck (Chester Wisniewski and Paul Ducklin) are back, wrangling the latest security stories into an entertaining and informative quarter-hour of useful news.
(You can keep up with our podcasts via RSS or iTunes, and catch up on previous Chet Chats and other Sophos podcasts by browsing our podcast archive.)
Chet Chat episode 111 shownotes:
• For the benefit of North American listeners, Duck points out the curious relevance of the episode number (111) to the game of cricket, and neatly ties that back to security.
• PRISM made the news for its surveillance and spying aspects. Chet and Duck wonder if the underlying problem of "how did the leak happen at all" isn't a much bigger deal. Full disk encryption, the pair conclude, is your friend.
• Swedish data protection mandarins instructed a local council not to use Google's cloud. Chet and Duck explain why, and argue that having at least some gung-ho privacy commissioners in some parts of the world is probably good for everyone.
• Blackberry ships Flash on its latest smartphones. Chet asks, very bluntly, "Is this a good idea?" Duck thinks not – and Chet makes the point that it's not just that Flash is installed, but that it languishes behind on patches, too.
Don't forget: for a regular Chet Chat fix, follow us via RSS or on iTunes.
No flash image courtesy of Shutterstock.