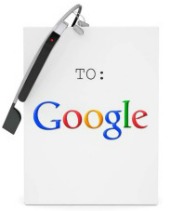 The privacy officials of six countries and the European Commission have a host of questions about Google Glass, wouldn't mind getting their hands on the devices, and are wondering why, exactly, Google hasn't rung most of them up to hash out the privacy issues.
In an open letter to Google CEO Larry Page, the privacy overseers mused about not being consulted regarding privacy in the internet-enabled head gear:
We understand that other companies are developing similar products, but you are a leader in this area, the first to test your product "in the wild" so to speak, and the first to confront the ethical issues that such a product entails. To date, however, most of the data protection authorities listed below have not been approached by your company to discuss any of these issues in detail.
The letter – signed by 36 worldwide privacy officials from Canada, Australia, New Zealand, Mexico, Switzerland and Israel, several Canadian provinces, and a representative from the EC's privacy-focused Article 29 Working Party – notes that Glass has been the subject of many articles that have "raised concerns about the obvious, and perhaps less obvious, privacy implications of a device that can be worn by an individual and used to film and record audio of other people."
In light of people's "fears of ubiquitous surveillance", questions about Google's collection of such data, and how Google's revamped privacy policy will come to bear, the letter posed these privacy-related questions:
How does Google Glass comply with data protection laws?
What are the privacy safeguards Google and application developers are putting in place?
What information does Google collect via Glass and what information is shared with third parties, including application developers?
How does Google intend to use this information?
While we understand that Google has decided not to include facial recognition in Glass, how does Google intend to address the specific issues around facial recognition in the future?
Is Google doing anything about the broader social and ethical issues raised by such a product, for example, the surreptitious collection of information about other individuals?
Has Google undertaken any privacy risk assessment the outcomes of which it would be willing to share?
Would Google be willing to demonstrate the device to our offices and allow any interested data protection authorities to test it?
As it is, the privacy commissioners write, most of what they know comes from media reports, most of which contain "a great deal" of speculation about how Glass operates, how it could be used and what Google's going to do with the data the devices collect.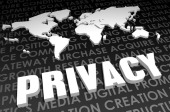 If this raises a feeling of déjà vu, that's because the privacy caucus of the US Congress asked similar questions of Google in May.
The deadline to answer was June 14, but if Google did reply, I've missed its answers.
The privacy officials who signed the letter wrote that they're "very interested" to hear the privacy implications of Glass and how, exactly, Google plans to ensure that individuals' privacy rights are respected around the world.
They're looking forward to hearing some answers, they say – but then, that goes for pretty much all of us.
Image of Google Glass letter and privacy world map courtesy of Shutterstock.