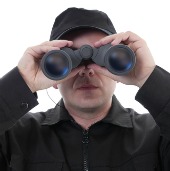 A Canadian police officer who pleaded guilty to planting spyware on his wife's BlackBerry has been sentenced to demotion, after two years' paid suspension.
According to local news sources, a mitigating factor in his sentencing was that he didn't know that planting the cyber bug was a crime.
The unnamed (for legal reasons) officer, from the police force of Sault Ste. Marie, Ontario, was apparently drinking heavily at the time, and suspected his wife of cheating on him with a close friend.
His defense counsel argued that both the jealousy angle and the lack of clarity around such spyware should weigh in the officer's favour, an opinion supported by the eventual decision to grant a conditional discharge and place him on probation for twelve months last year, and now to sentence him to demotion to second class constable for at least two years.
The spyware he planted could apparently harvest chat and SMS data as well as monitor GPS location information, with the information gathered posted to a remote site and accessible from anywhere in the world.
The officer admitted to buying the spyware online, under his own name and with a credit card, from a US website advertising the tool as suitable for snooping on spouses suspected of infidelity.
The case was one of the first brought under new laws covering digital surveillance, as the judge at his original hearing last year pointed out. The case was treated as a gentle introduction to the new laws, with future offenders warned that they would not be treated so lightly.
It does seem a rather delicate slap on the wrist, especially for a police officer, who should be expected to be more up to speed than most people on what is permissible behaviour and what is, in fact, a crime.
The case highlights the difficulties surrounding "greyware", the "potentially unwanted applications' (aka PUA), which most quality security products will alert on if asked to, but whose developers claim they are servicing a legitimate need.
The PUA issue has been around for quite a few years in the PC world, but is now becoming a particular problem in the mobile space, where this kind of snoopware is especially effective thanks to GPS location data and the intimate info many mobile users share by SMS, instant messaging and social networking apps.
With people only just starting to realise the need for security software on their mobiles to help spot stuff like this, as well as simpler security practices such as screen locks and not letting strangers fiddle with your phone, this sort of story should help hit the point home.
And from the other side, it should make it clear to people thinking about using this kind of tool to snoop on their friends and neighbours: it's not just not cool, in many jurisdictions it's a crime.
Images of man spying and GPS map courtesy of Shutterstock.