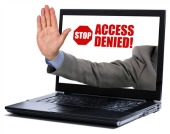 The US Army has been blocking access to the The Guardian's ongoing coverage of data surveillance by the National Security Agency (NSA) ever since the publication broke the story in early June.
The Monterey County Herald, in California, reported on Thursday that the Army has confirmed that it's censoring coverage of the topic throughout the entire Army.
The newspaper quoted a spokesman for the Army Network Enterprise Technology Command (NETCOM), who said that the Army is filtering "some access to press coverage and online content about the NSA leaks."
The spokesman said that it's routine for the Department of Defense (DoD) to take preventative "network hygiene" measures to mitigate unauthorized disclosures of classified information:
"We make every effort to balance the need to preserve information access with operational security. However, there are strict policies and directives in place regarding protecting and handling classified information."
Local army employees told The Herald that they could access the US site www.guardiannews.com but were blocked from articles that redirected to the British site.
The Herald's sources said that their local information assurance security officer sent an email to employees early Thursday saying that The Guardian's website was blocked by Army Cyber Command "in order to prevent an unauthorized disclosure of classified information."
He further said that employees who might actually download classified information, as The Guardian has published, would trigger "labor intensive" work, such as wiping or destroying their hard drives.
Military or DoD employees who download the classified documents could face disciplinary action if found to have knowingly downloaded the material on an unclassified computer.
The Guardian has published top-secret documents about the NSA's monitoring of Verizon customers' phone records in the so-called PRISM surveillance project, as well as top-secret documents describing procedures used by the NSA to target its surveillance.
The Army spokesman told The Herald that his department relies on automated filters that restrict access, based on concerns about content or malware threats.
The department would not, however, block content "from the American public in general," he said, given that to do so would violate "our highest-held principle of upholding and defending the Constitution and respecting civil liberties and privacy."
(It's interesting that this is even brought up as a choice; I wonder how extensive the DoD's ability is to block US citizens' access to news content?)
For its part, Ars Technica users let the publication know via forums that merely viewing reproduced images of the classified documents can get a DoD employee in hot water with the military's strict clearance rules.
As a result, much to its credit, Ars up and changed how it handles such images on its home page:
Since that came to our attention, Ars does not use images of top-secret documents on the front page of our website so that military employees without clearance can read the news with the reasonable assumption that they won't come across still-classified documents unless they click on an article about the leaks.
…which made me curious to find out whether Naked Security might get military personnel in trouble with the way we cover such news, which I would imagine is of great interest to that demographic in particular.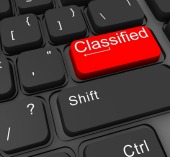 Naked Security's home page format doesn't accommodate room for classified-document reproduction, so military and DoD staffers can see headlines and summaries pertaining to ongoing coverage of surveillance and leaked documents.
More importantly, Naked Security does *not* post images of classified documents within our articles or on our site. But when addressing such 'leak' events, our articles may contain clearly-labelled links to third-party articles that may show such documents.
So again, reading Naked Security's articles shouldn't get you in trouble. Mind the links that go off the Naked Security reservation, though, since that could make you run afoul of military rules.
If I'm wrong and you've seen coverage that includes such images, please let us know in the comments below.
Ars is working to keep you informed without getting you in trouble, and we'd like to follow suit.
Images of access denied and classified key courtesy of Shutterstock.