Somebody playing League of Legends called Justin Carter, then 18 years old, "crazy."
His response, according to police, was to toggle over to Facebook and post these messages on his own page on 13 February: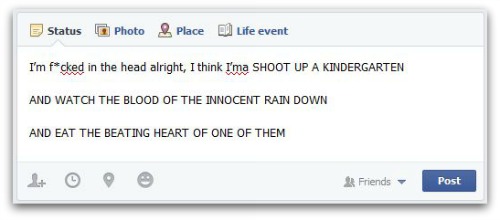 "I'm f*cked in the head alright, I think I'ma SHOOT UP A KINDERGARTEN"

"AND WATCH THE BLOOD OF THE INNOCENT RAIN DOWN"

"AND EAT THE BEATING HEART OF ONE OF THEM"
The now-19-year-old from Texas, US, was arrested in March 2013 in connection with the posts, on a third-degree felony charge of making a "terroristic threat."
Carter's family and lawyer claim that the comment was merely a sarcastic response to a comment from another Facebook poster.
His father, Jack Carter, told CNN that his son followed the violent postings with "LOL" and "J/K" to indicate that his comments weren't serious.
Donald Flanary, a defense attorney who recently took up the case on a pro bono basis, told the Christian Science Monitor that it was nothing more than "banter by kids on the internet":
"He's a gamer... He never intended to threaten anyone. He wasn't serious."
Carter has been in custody for 4.5 months so far, with bail set at an extraordinarily high $500,000.
Flanary told National Public Radio that such a high bail is unprecedented in his experience:
"I have been practicing law for 10 years, I've represented murderers, terrorists, rapists. Anything you can think of. I have never seen a bond at $500,000."
Even though law enforcement must be sensitive to these kinds of comments, the high bail and the months-long imprisonment is unjust, when considering the case turns on out-of-context Facebook posts, Flanary said.
Ken Paulson, president of the First Amendment Center at the Newseum in Washington and dean of the College of Mass Communication at Middle Tennessee State University in Murfreesboro, told the CSM that there's no underlying trend here.
But even a handful of cases wherein Americans lose their liberty for inadvisable postings such as this is alarming, Paulson said:
"There are safeguards that should lead to a critical analysis of provocative speech... [It seems in this case as though] the entire [legal] system has overreacted to this post."
Carter's search warrant and arrest warrant show that while computer devices were seized, police found no weapons when searching Carter's home.
Even police in the town Carter live in are, at least implicitly, admitting that he's not a real threat.
That's my take, at any rate, given New Braunfels Police Lt. John Wells's comment to NPR, in which he calls the case "unfortunate":
"The whole situation is kind of unfortunate. ...We definitely understand the situation that Mr. Carter is in, however he made the comments, and it is an offense. We have to ... protect the general public and specifically, in this case, with it involving schoolchildren, we have to act. We take those very seriously."
It really does appear that Carter was a teen who said some stupid things online. I hope police and the legal system release him as soon as possible.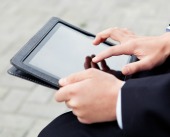 As it is, Carter is being beaten up in jail and is suffering from depression, according to media outlets.
Given the context, it seems that Justin Carter is being subjected to cruel and unusual punishment for the simple crime of being young and big-mouthed.
Law enforcement's caution is understandable. Threats of violence toward schools can't be taken lightly.
But continuing this case, and continuing to subject this unfortunate young man to the abuse he's currently suffering while in custody, is nonsensical.
A hearing to reconsider Carter's bail is set for July 16.
An online petition for Carter's release had received nearly 87,000 signatures as of Sunday.
He was trash-talking.
Kids do that.
This one probably won't do it again.
Let's hope the judicial machinery churns through this case quickly so this young man can get out of prison – before things get even worse.
Image of tablet courtesy of Shutterstock. Image of Facebook screen courtesy of Thinglass / Shutterstock.com