The fugitive jeered "Catch me if you can" over Twitter at her only follower.

That follower was San Diego County District Attorney Bonnie Dumanis, who went out and did just that.
According to the LA Times, Wanda Lee Ann Podgurski, who had been convicted of insurance and disability fraud before skipping town and crossing the border, was arrested Thursday in Rosarito, Mexico by the Fugitive Task Force.
Authorities said that the case, along with the taunting tweet, had been turned over to the US Marshal and the Computer and Technology Crime High-Tech Response Team.
Podgurski is a former Amtrak clerk who was convicted of disability and insurance fraud in January.
On Monday, she was arraigned in San Diego Superior Court on a charge of failing to appear while on bail.
She was convicted of 29 felony counts relating to insurance fraud.
The 60-year-old woman was sentenced to 20 years in prison, in absentia, after being convicted of receiving more than $650,000 in disability and insurance payments paid out for injuries which the court found that she had faked.
Podgurski claimed that she had injured herself by falling at home and needed medical care from visiting nurses.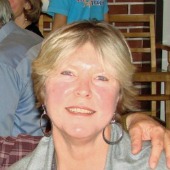 But prosecutors said she was feeling sprightly enough to travel during that time, hitting the Dominican Republic, New York, Seattle, Boston, and Fort Lauderdale, and feeling hale and hearty enough for a 16-day tour of China with a boyfriend.
Steve Walker, a spokesperson for the San Diego County District Attorney, told Ars Technica that Podgurski wasn't actually caught "through her Twitter account", but he declined to give any details about how she had been caught in Mexico.
But as Ars's Cyrus Farivar points out, it wouldn't exactly have been rocket science to track her down via IP address if she hadn't concealed her identity or location online.
If she was tweeting via mobile phone, of course, she might as well have painted "I'm right here" across her own forehead.
Thank goodness some criminals, at least, aren't savvy enough to read about proxy servers, or Tor, or Privoxy.
They also apparently can't tear themselves away from online bragging or taunting long enough to read news accounts of the woman who bragged on YouTube about robbing a bank, or maybe the burglars who gave police a heads-up on Facebook when it was official break-in day.
The moral: don't get too braggy online if you don't want to get caught.