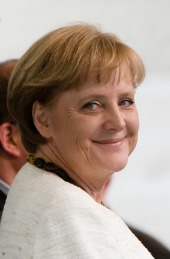 The German Chancellor, Angela Merkel, has called for tougher data protection rules within the European Union, as well as a far greater level of transparency from the larger internet companies like Facebook and Google.
During an interview aired yesterday evening, Merkel said that Germany wanted "the internet companies here in Europe, such as Facebook and Google, to tell us who they are giving the [personal] data to" and added that the country would take a "very firm stance on the issue."
Merkel's interview with German broadcaster ARD follows recent revelations about the US online surveillance program, known widely as PRISM.
Merkel, who has received much domestic criticism over her lack of decisive action to protect German people from foreign surveillance, also asked for German law to be observed:
"I expect a clear commitment by the US Government for the future - that you will observe German law on German territory. We are an affiliated partner. We are in a defensive alliance and must be able to rely upon each other."
Merkel said that despite Germany having great privacy laws, such as the Federal Data Protection Act, it still could not guarantee that its citizens' data could be protected. This, she said, was due to different laws applying to different companies depending upon where they were registered. For example, if a company was registered in Ireland then they would be subject to Irish law. She added:
"Therefore, we do need a unified European solution."
With the German people on both the east and west of the country aware of their country's surveillance history, this is a topic I'm sure they'll be following with interest.
Image of Angela Merkel courtesy of DanielW / Shutterstock.com.