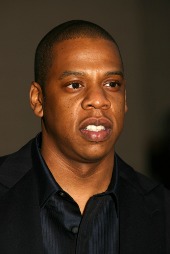 Why does Jay-Z want to know who we're talking to?
Because that's the type of information demanded by an app he released earlier this month to promote and distribute his latest album over Samsung devices.
In fact, the galaxy of permissions required by this busybody little app "verges on parody," the Electronic Privacy Information Center (EPIC) said in a complaint it filed this week with the Federal Trade Commission (FTC).
The Magna Carta App, used to promote the album, "Jay-Z Magna Carta Holy Grail", was launched 4 July on Samsung Galaxy Nexus devices in advance of the record release.
EPIC wants the FTC to stop Samsung from distributing the app until its privacy concerns are addressed and the app falls in line with the Consumer Privacy Bill of Rights [PDF].
The app requires these permissions:
To modify or delete contents of phone USB storage.
To prevent phone from sleeping and view all running apps.
To access your precise (GPS) and approximate (network-based) location.
To read your phone status and identity (i.e. who you're talking to on voice calls).
To run at startup.
To test access to protected storage.
To receive data from internet, view Wi-Fi connections, and view network connections.
To control your phone's vibration.
To find accounts on the device – in other words, to gather email addresses and social media usernames connected to the phone.
The app not only wants to know who you call, it also demands your Twitter or Facebook login so it can post on your behalf, presumably so it can create "social buzz," EPIC says.
Beyond that, people who downloaded the Magna Carta app have been forced to post a canned Facebook or Twitter message to hype the album for each song's lyrics they wanted to check out – a process that "encouraged users to flood their friends with unwanted advertising" and forced users to act as "mandatory marketing tools" to access the lyrics, EPIC says.
Users were suitably appalled. One actually paused for an entire 6 seconds.
And then, well, he or she went ahead and downloaded it.
Others are in mourning for the loss of lifespan the app sucked up.
One user's comment:
"I downloaded it, opened it, noticed the obscene amount of personal data they wanted, closed it again and uninstalled. I'd like that minute and a half of my life back please."
Observers are, naturally, assuming that Jay-Z has undertaken advanced surveillance as a hobby.
From Jon Pareles, writing for the New York Times:
"If Jay-Z wants to know about my phone calls and e-mail accounts, why doesn't he join the National Security Agency?"
Pareles is particularly irked, given lyrics from at least one Jay-Z song – "Somewhere in America" – that seem, confusingly enough, to be anti-NSA:
"Feds still lurking"
"They see I'm still putting work in..."
As Pareles points out, now Jay-Z is lurking, in our phones.
Jay-Z, if you're listening, which it seems like you are, then please, call off your Samsung colleagues.
We've got enough eavesdropping going on without you adding to the snooping.
Image of Jay-Z courtesy of Shutterstock.