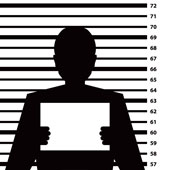 A New Jersey US Attorney yesterday announced charges against five men – four Russians and a Ukranian – in connection with one of the biggest global data theft campaigns ever seen.
Accused of working alongside Albert Gonzalez, currently serving 20 years in jail for his role in several waves of data breaches, the gang's activities may have cost their targets hundreds of millions of dollars, with three major corporate victims claiming $300 million lost between them.
Russians Vladimir Drinkman, Aleksandr Kalinin, Roman Kotov and Mikhail Rytikov and Ukranian Dmitriy Smilianets stand accused of participating in breaches at a range of major businesses between 2005 and 2012, harvesting over 160 million sets of personal data including credit card numbers.
Firms hit included retail chains JCPenney and 7-Eleven, French supermarket giant Carrefour, and financial institutions including Dow Jones and NASDAQ.
They are also thought to have been involved in the infamous Heartland Payment Systems breach, for which cohort Gonzalez is serving time.
Gonzalez is listed as a co-conspirator in this new case, and has also been convicted of masterminding the massive breaches at TJX and other firms in 2007.
The five men are alleged to have been at the technical end of the crime syndicate, perpetrating the actual breaches and planting malware on their victims' systems to harvest card data over time, according to local New Jersey media reports.
The data collected would be passed on to middle-man resellers, who then sold it on to the street-level teams who cloned new cards and turned the numbers into cash with mass worldwide ATM withdrawals or shopping sprees.
No information is available on likely sentences should the men be found guilty, but they are unlikely to be as high as the two concurrent 20 year stretches being served by Gonzalez, let alone the 30 years given to another of Gonzalez' associates in Turkey.
Whatever happens, it's good to see that members of one of the biggest and most notorious cybercrime gangs in history are still being chased down and brought to book.
Images of Mugshot and credit cards courtesy of Shutterstock.