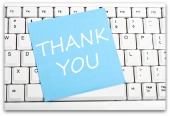 Happy #SysAdminDay
Ah, system administrators. The unseen and unsung craftsmen and women who keep our systems up, patched, secure, fast and safe. That secretive guild of magicians whose silent magic takes place out of site and out of mind in windowless IT offices and frigid server rooms.
Unloved and forgotten; they're invisible when it's all running smoothly and bathed in limelight when things go south.
Until today…
Today is System Administrator Appreciation Day. A day to say "Hey, we see you, we know what you do and we think you're doing a great job. Fancy a pizza?"
Yep, to say thanks to the people who work hard so we can keep working hard, we're giving away a whole load of pizzas so a group of sysadmins can have a party on us! Yum.
The details on how you can win the party are over on Spiceworks.
If you don't know who your sysadmins are, then find out today. Go and spread some Friday good feeling and say thank you.

Image of thank you note courtesy of Shutterstock.