Today is SysAdmin day. A day for doffing our caps to the heroes of bash and PowerShell, chuckling at their playful and surprisingly clever slogan t-shirts and taking time to thank them for the thousands of unseen and unnoticed things they do to make our modern workplace function.
It's a day for saying "hi, we love you guys, we got you some pizza".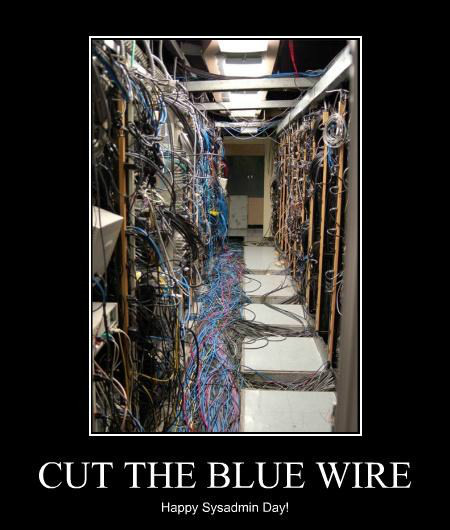 If you do go down to the basement (or whatever poorly lit and badly air conditioned room your sysadmins are kept in) be sure to observe the local customs and language, just as you would on any visit to a foreign territory.
The sysadmin's domain is a land where cat's read files and latex plays a bigger role in documentation than you'd think.
It's a place where sitting still and looking into space or at an empty screen might be a sign that hard work is taking place and it would be a really bad time to interrupt (it's called thinking).
Yes, it's as easy to offend the locals and mistakenly order a metaphorical lunch of bull testicles in the lair of the 'admin as it is in any backstreet taverna in a far flung land.
With that in mind, and with a little inspiration from the folks at TrainSignal and their article Top 10 things you shouldn't say to a sysadmin we thought we'd put together a lighthearted poll to help us all understand each other a little better.
If you think we've missed something important from the poll or you have some wise words about how to rub along with sysadmins please tell us in the comments.
Demotivational poster from cheezburger.