The BlackHat 2013 conference starts this week at Caesar's Palace in Las Vegas.
We've already written about some of the talks that will be taking place, but we haven't yet told you what we're going to be up to.
So here you are: we're running a #sophospuzzle for you to take on.

Unlike some of the heavy-duty hacker contests you'll see at events like BlackHat, we aren't asking you to come up with brand new exploits and to demonstrate them live under time pressure.
Don't get me wrong, the puzzle isn't trivial.
There's a crossword to be solved, an algorithm to be analysed (written in a rare dialect of FORTRAN, no less), code to be reversed, keys to be recovered, and some spot decicions to be made about when to hack and when to be precise.

But it won't take up so much time that you need to skip sessions or give up the social and networking side of BlackHat to solve it and win.
Also, there isn't any actual malware involved, so you can't infect yourself by mistake, and once you've downloaded the puzzle materials, you don't need network access to complete it.
And, best of all, there are cool prizes.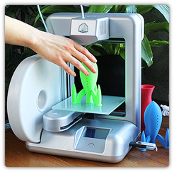 Delegates attending BlackHat can hand in their answers at the Sophos booth in the trade show area – while enjoying free beer and a carnival theme, as it happens – and enter to win a 3D printer from Cubify.
And Naked Security readers can enter from afar by email to get into the running for a remote controlled tank.
The deadline is 3.30pm Las Vegas time on Thursday 01 August 2013, which is the end of the penultimate session break on the last BlackHat conference day.
Also, to reward those who get to the answers first, there are five Naked Security T-shirts up for grabs for the first crossword solvers, and five T-shirts for the first finishers of the whole challenge.
Why not give it a go?
This challenge isn't just for people who already know how to analyse malware, do pentests, or find vulnerabilities.
If you can code just a little and think on your feet, you'll have definitely fun doing this #sophospuzzle.

(Oh, and if you're at BlackHat, whether you take on the puzzle or not, please stop by at the Sophos booth and say "G'day" for me to my fellow Naked Security writer, and genial host of the Chet Chat podcast, Chester Wisniewski!)