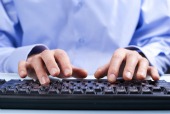 A five-year jail term has been handed to a US man found downloading and watching child abuse imagery at work.
Investigators at the Seattle branch of the Social Security Administration where he worked were apparently alerted to his activities when his company computer was hit by a malware attack.
Thomas J. Barrett, 50, of Lynnwood, WA, seems to have been seriously addicted to grotesque photos and videos of underage girls being assaulted, with over 3,700 items found on his system.
In between browsing for fresh material for his collection, he also researched possible penalties for such activities, and alternated between porn and work time to keep his habits from his colleagues, indicating at least some awareness of just how wrong his behaviour was.
On one of his trawls through the seedier side of the web, a malware alert brought administrators' attention to what was going on, and subsequent investigations included setting up a spy camera monitoring his workstation.
The investigators were then exposed to the unedifying sight of Barrett "fondling himself" at his desk. He was arrested in January, but remains free on bail until his sentence comes into force.
Barrett's defense team claimed his time in the US Army sparked his addiction, with a visit to Europe opening an "evil door" in his delicate mind.
This is the second time in as many weeks that we've reported on malware playing a significant part in bringing paedophiles to book.
Before anyone gets the wrong idea, there's nothing noble about being a malware author or purveyor; it's still a nasty and criminal business, just perhaps not quite as nasty as these chaps.
Image of man surfing web courtesy of Shutterstock.