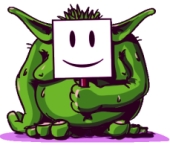 For years now, there's been a thorn in eBay's side – a troll with many pseudonyms, one of which is Ebayisajoke.
This troll torments eBay and those who use it. Even though he's been banned from eBay, he'll create stealth accounts and use them to outbid customers, refuse to pay, and leave nasty reviews.
One example of his baiting ways: He's allegedly threatened to have an order of protection taken out against an eBay seller, Hubcap Joe, posted a negative report on his business to the Better Business Bureau, stolen images off the seller's site, and accused Hubcap Joe of purveying stolen merchandise.
He has a private YouTube channel whose purpose is to expose eBay's endless list of alleged sins, including its MasterCard deal being a scam and its payment system violating California law, its videos using subliminal messaging, etc.
He's got a penchant for Anonymous-inspired attire, so he wears a Guy Fawkes mask and digitally alters his voice for his videos.
Now, many are breathing a sigh of relief.
Now, thanks (maybe) to a local reporter in the US city of Detroit, Michigan, Ebayisajoke has been unmasked.
The reporter, My Fox Detroit's Rob Wolchek, hired private investigators to track him down. For a week, they staked out a Detroit man they believe to be the troll/fraudster.
Wolchek then cooked up a newscast that makes fun of the guy for being fat, shopping at Walmart, eating at fast-food restaurant Subway, and going to the movies ALONE (GASP!), even getting access to the man's apartment building to check whether closet doors in the building match the ones that show up in videos by Ebayisajoke (they look like they do).
Yet for all that, Wolchek didn't bother to find out if any of the man's alleged stunts are actually illegal.
And that is exactly why I haven't given his name. You can find it easily by watching the My Fox Detroit news clip, if you'd like to join them in their tongue-clucking party.
This is not meant to belittle the anguish and lost business eBay businesses have suffered by being harassed, by not being able to make a sale, and potentially losing business due to fictionalized negative reviews.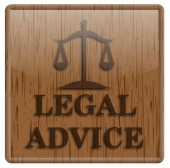 If Ebayisajoke has committed serious, actionable crimes against you, I would assume that you've spoken with an attorney by now and will be pursuing charges against him, and that the investigative work involved in prosecution will bring to light what crimes might have been committed and what the culprit's true identity is.
When it comes to trial, I will be interested in hearing about all of those details.
Until then, this feels like a witch hunt to me, replete with the Mail Online's analysis of the body mass index/social deviant horror of it all.
Image of troll and legal advice courtesy of Shutterstock.